Blisters
May 11, 2013
The floor-length backless red gown beamed at me from the corner of my eye. Slowly, as to avoid tripping, I walked over to the glaring mirror. A small ray of sunlight peaked out from behind the curtains as I ran my fingers through the layers of chiffon and silk. My hair had been tied back in an extravagant up-do that I could only dream of attempting with my own styling skills. Flawless make up, beautiful jewellery, luxurious shoes. All this I had to myself. I was so lucky, so privileged. So honoured. And yet my mind kept returning to the same thing:
I had a blister.

I did not want to think of it. I wanted to enjoy this night as anyone else would, as I should. With my husband, with his family, with the friends that I had just begun to get to know. With acquaintances whose names currently escaped me. I wanted to enjoy every moment of my new life with ease, with grace. But the same thought eluded me again and again: was this life meant for me? Were these red stilettos mine? Should I be waltzing through the ballroom tonight with the supposed man of my dreams?
Should I be Princess Olivia?

I used to just be Libby. The servant girl who cleaned up in the kitchens. I used to live on the other side of town, the rough end. Where you had to carry a knife around to defend yourself from muggers and thieves. I used to struggle to pay rent, and now I would never have to work again. I used to think I was in love. I don't anymore.

"Libby, you ready?" Jordan asked me.
"I'll be out in a minute," I replied, suppressing the tears. Why was I crying? The thought almost brought me to giggle. Why, when I had all this - all of England in my grasp - am I crying at the thought of having a blister.

I was being childish. This was no way to behave. I had to be at the banquet in fifteen minutes. I had to deliver my first speech as Her Royal Highness shortly after that. I couldn't stand up there talking about happiness and freedom and liberty, with red and blotchy eyes. I was the countries idea of perfection; I couldn't let them down.

I made the wrong decision; I shouldn't have gone down this path. But I must suffer; I cannot leave a midst all this. It is my fault. I cannot hurt my nation. I serve them now.
Screw my blister.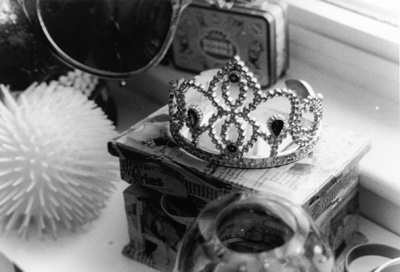 © Bayta R., Beverly, MA