Morning
MAG
March 25, 2013
The puddle of rainwater is a reminder of a past long gone. I stare into it. My face has changed a lot the last few years. What was once gentle and accepting is now hard and unforgiving. Steel blue eyes filled with daggers glare back at me from the water below an unruly shock of hair. I don't recognize myself. I don't want to.

I look up. The sky is gray, a blanket of colorlessness. The street is soaked in fog, illuminated every few feet by the glow of a street lamp.

A car roars by. I catch eclipsed glimpses of a black sedan. The color matches my mood. I hear the tires squeal as it splashes through a puddle, and I'm drenched with dirty water. I don't care. I welcome the wetness. It's rejuvenating.

I start walking down the street, my hands in my pockets. You appear beside me as I know you will. I pull up my hood and ignore you. Your hair is wet, plastered to your face, making you appear more beautiful than ever. You put your arms around my waist. I feel nothing.

"I'm worried about you," you whisper. Your voice is sad and slips into my ears unobtrusively. Your body is flickering, like a light bulb in a thunderstorm. I bite back a reply and grimace as I feel teeth clamp on my tongue. Blood fills my mouth. I swallow it, tasting its saltiness.

"Let me help you," you sob. I don't respond. You are not real. You are a memory. I loved you once. The tears on my face are a reminder of a past long gone.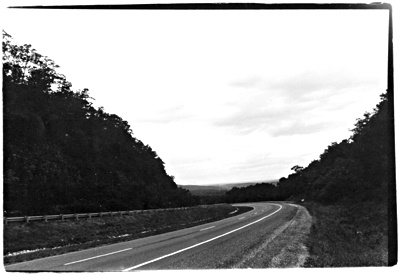 © Courtney R., Great Falls, VA