My Last Day
January 18, 2013
I lay in bed as I watched the clock.

I waited, before the minutes rolled into the early hours of the morning on the glowing dial in the darkness. I wondered what the day would bring, assuming I had the chance to live it.

What if tomorrow was my last day on this earth? Have I lived? Would I want to, in this world of war and of hatred and dispute? Would I be afraid of the End? Or would I be afraid of the opportunities missed?

If this were my last day on earth, would I wish that I'd told my parents how much I love them? That all the times I'd shut myself in my bedroom, typing to cyberspace, I really should have relished the opportunities with them? To gain knowledge from their experience and to laugh with their memories? To apologize for all of the stupid things, like not cleaning my room when I really should have, or slamming doors when I was in a mood, or just forgetting just to say a simple 'thank you'?

If this were my last day on earth, would I want to tell my ex-boyfriend how I actually felt? That he shouldn't cheat on girls; we are not at his disposal, at his amusement, at his mercy? That he should be grateful to share times with somebody, because this thing we call 'time' is precious and that should never be forgotten? Should I thank him for the happy times and forgive him the bad?

If this were my last day on earth, would I visit a hospital and just look? Look at all the hard working people fighting for life, at the patients so affected by disease yet so appreciative of what is theirs? Would I do just the tiniest favour for an ill person, just to see them smile? Volunteer for free, that no price-tag could cover? Would I?

If this were my last day on earth, would I go back to my old school and town, and tell the bullies how things really were? That they should not pick on who they perceive as weaker, because it doesn't help anyone. Including themselves. That we are all different and unique, and that individuality should be celebrated, not isolated. That I do not care for the color of lip-gloss I wear, or if my hair is the right style today. Because those things do not matter. What matters is the comfort of acceptance and the expression of independence. Standing alone is not weak; it is the strongest you can be.

If this were my last day on earth, would I speak Mrs. Warren, who lives down the street and sells fresh lemonade from her yard for charity? Or would I just walk on, as normal, embarrassed by the old lady who has nobody to speak to, when everyone laughs behind her back? Would I be brave, or would I stay a coward?

If this were my last day on earth, would I tutor Collin, the guy who's had a crush on me since forever but never had the courage to ask me out? Or would I refuse him, as usual, because I do not want to be humiliated by spending time with a guy who wears glasses and loves Math and is labelled a 'nerd'? Or would I forget those ridiculous preconceptions, and talk to him instead of judging before he has a chance?

If this were my last day on earth, would I tell my little sister Libby that I know she wears my clothes when she thinks I'm not looking, and that she uses my special shampoo and my computer when I'm out? That, despite our constant bickering, she is my best friend, and I would never have it any other way? That if I could choose another sibling, I'd choose no-one else?

I closed my eyes as midnight struck, a fresh day starting.

But it was no fresh morning, for yesterday was my last.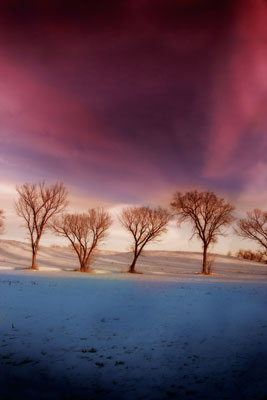 © Elizabeth H., San Bernardino, CA