Child of Heroes
January 3, 2013
"Hush, little baby, my sweet little baby girl. Mommy's got you. I will never let you go. You're my little angel baby." She says, her voice as soothing as a breath of spring comforts the soft cries of a newborn baby.

She slowly danced the baby around the room while humming the tune, You Are My Sunshine. The baby's eyes sparkled while looking in wonder at her mother's face. At that moment a bond was formed. They danced to the music of love and adornment like fate had meant them to.

As the song reached its end, the little baby girl's eyes fluttered closed, and she fell into a deep slumber in her mother's protective arms. Sensing, the baby had dosed off, her husband made his way over them. He reached over to slowly caress the baby's soft head while she slept.

"Have you thought of a name?" He asks.

"No. I haven't," she replies, "I mean, after everything we've gone through, I just can't think of something that will show the world that she is meant for us, you know? No name describes her angelic face, or her eyes that sparkle each time she is in my arms. No name in all the baby name books I've read tells how much she means to me."

His oceanic eyes watched as her tears fell off her cheeks and soaked into the little pink blanket wrapped around the baby. Her face was tired, but her eyes were glinting as if they had more fight in them. He smiled warmly before softly taking the baby from her arms.

"You are my warrior, you know that, right? You fought through the pain, the loneliness, the cold of winter, and the days when you needed me by your side. You did all that, and all the while carrying our baby. I wish they would have given you a medal, not me." He says quietly, his eyes shining with fresh tears.

"Thank you, honey, but you are my warrior too. You kept not only me, but also our country safe. You saved us all." She says in reply.

"Don't mention it." He says with a half grin.

A few minutes pass in silence, and slowly the baby begins to stir in her father's arms. He starts rocking her back and forth rhythmically, but suddenly he could feel pressure on his arm. He looked over to see his wife almost asleep, her head resting perfectly on his shoulder.

"Honey, go back to bed. You need your rest." He says as he brushes his wife's soft brown hair away from her face.

"Alright," she replies in big yawn, "goodnight my sweeties." She kisses her husband, then the baby's head before shuffling off with her IV stand to the hospital bedroom.

After his wife had gone, he made his way to the window of the empty waiting area to look out at the moon and the stars. He held the baby tightly in his arms as he wept quietly and without shame. His tears soaked into the baby's blanket, just as her mother's did.

"My baby girl. I'm so sorry I wasn't here to take care of mommy. I'm so sorry for leaving her alone. I love you baby. I love you so much." He cried every tear he had shed in Afghanistan over and over again while he held his newborn baby girl.

Slowly he regained his composure. The streaks on his face dried, leaving many long trails that could tell of every pain he had in his heart. He took a long deep breath and watched his child sleep soundly.

"I know what your name should be, my baby girl. Your name should simply be, Angel. You're our Angel." His eyes said it all.

He kissed little Angel on her cheek, the one that had the very visible dimple. His mother had said that a child born with dimples meant that God had touched them especially, and he definitely believed it.

He reached over to the button on the wall and rang for a nurse. A couple minutes later, two nurses came into the room. One took his baby away to the nursery, and the other wheeled him back to his room.

He looked down as the stoutly nurse wheeled him down the hallway. He took a deep breath and calmed himself for the long journey ahead of him. To live a happy life with his wife and his baby was going to be a challenge without having his legs.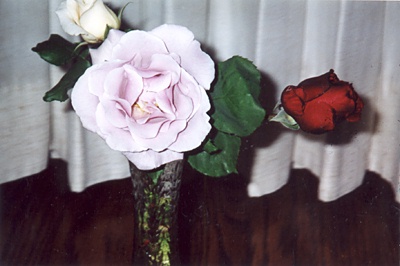 © Molly M., Palmdale, CA