Shatter
October 30, 2012
You probably don't remember, but I still do. We met on that special morning all those years ago, your eyes so wide with starry delight and childlike adoration. You told me I was your favorite.

My story you could not read, so you tore it from my wrist and deemed it all irrelevant. You didn't care that I was Antebellum Alice, a sweet farm girl shipped straight to you from Tennessee. You never bought my sister Abigail, and you ripped my pet poodle from the stitch under my arm to be lost forever at Grandma's house. To you I was simply Molly Dolly, and that was all right with me.

At first nothing was ever seen from a steady angle. It was always ground over sky, ground over sky as I dangled by the arm, whipped dangerously about as you ran barefoot through the park. There was always that unpleasant scrape of my porcelain cheeks against the metal slide as you sent me down, face first; always the itch of woodchips in my hair. You'd put me in your backpack, sporadically peeking inside with those pearly bright eyes as if to make sure I was listening to the teacher, too. It was a whirlwind of claustrophobia and abuse and I loved it.

Then you moved me to the shelf.

You promised to never put me in the toy box, and you never did. Sometimes you'd take me down and read with a mechanical slowness that grew smoother over time, always pausing to show me the pictures. When we were done you'd stand on your tiptoes and scoot me back atop the shelf, straightening my dress with perfunctory little plucks as you frowned at the stains left there by old adventures.

Then you didn't take me down at all.

The first time you cursed out loud, a wicked blade of a smile cut across your cheeks as the bitter taste of it became sweet and powerful. The first one was the catalyst, and as you tested the many flavors of profanity your eyes wandered to me, wary and unrecognizing.
I stared back behind a blanket of dust.

You sat on the windowsill with smoke curling from your nostrils in thick, noxious tendrils, breathing it in and out until those pearly eyes became yellow and glazed. You were all but engrossed by that lazy gray fog, no longer intrigued by the cuteness of kittens or the color of a mermaid's tail. You almost seemed sad to watch it drift away, reaching idly after it with hands that were once so often smudged with magic marker or streaked with finger paint.

Then you made a new friend.

You moved about him with silken grace, somehow becoming entangled in an awkward dance. The first one was the catalyst, and as you tested the many flavors of promiscuity, you no longer seemed to care if anyone was watching.

Then you threw me away.

Here I sit in a dark, plastic headdress, shattered and nonexistent. You don't want to remember, but I still do.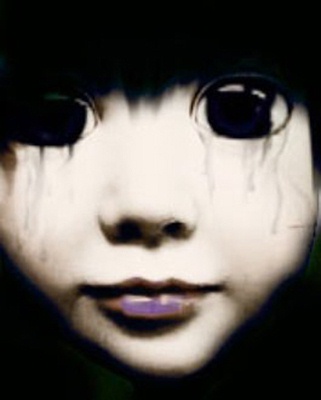 © Stephanie C., Gaithersburg, MD