Stacy
September 22, 2012
Stacy always wore the same lip gloss every day to school. It was shnazzy hot pink with a touch of midnight purple. She always hated school, and liked the same boys: the football captains. She was a cheerleader. And of course, fridays were off limits to anyone because they were for foot ball games only.

Steve liked Stacy. He liked her ever since the 21st day of second grade. He checked her facebook, twitter, myspace, tumblr status every day. Yeah, he was the most unpopular kid in the whole school. Even the janitor was more popular than him. But none- the less, he always had his heart to Stacy.

Steve lived next door to Stacy. He saw her sillouhette through her pink curtains with the word LOVE in hearts repeating its self all over the curtain. He knew there was a faded spot on the uper left side of the curtain. He knew the curtain so well after looking at it so much for the past decade. This was his final year to show Stacy how much he liked her.

Stacy never would've guessed that Steve liked her. He was a total geek, and she would be to embaresed to be around him. But Valentines was just around the corner, and "Captain Jack" was definetely was going to ask Amanda to the Valentines Dance. So she was left with no one to go to the dance. Her best friend, Emily was going with a jock from another town.
"Im sure someone would want to go with you. After all,Stacy, you are the most poular girl in school." Emily said
"I dont know, nobody asked me yet."
"What about that Steve guy? he looks cute!"
"What have I told you? Never talk about that loser. And no way! Maybe this friday, i could convince Jack to ask me instead of Amelia."

Steve was pacing around his room trying to figure out how he would ask Stacy to the dance. He would ask her after school.

Stacy walked out of Benjamin Franklin High School at 4:21 pm. Steve kept an even 50 paces behind her. When she crossed High avenue, he ran up to her side.
"Hey stacy-"
"Leave me alone."
"I was going to ask you-"
Stacy broke into a run with Steve right after her.
"Get away from me FREAK!" She screamed.
She crossed the double rail roads just as she heard the train comming.

Steve still ran, hoping he could catch up to her. First he saw her scream, the next thing he saw was blackness.

The train had hit Steve. The TRAIN HAD HIT STEVE! She couldnt have believed what she saw.
Well maybe it wasnt her fault, she told him to stop and watch out, but no, he didnt listen.

Maybe this had been her fault.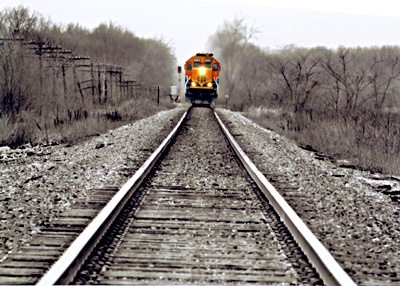 © Matt D., St Peters, MO