The Decision
September 22, 2012
I don't know how I ever got myself in this situation: three jobs every day, twenty long minutes drive apart, scrambling to barely get by with life.

But, I do know that I am not the only one living like this, and I do know that after I grow older and retire, life will get better.

Always hurrying around, always working and worrying, never living life to the maximum. This is not how life is meant to be in America, the land of opportunity and freedom.

I have always believed that the only way to survive the negatives and downfalls of life is by hurrying and always working until perfection. No room for mistakes.

But, until now, I haven't noticed this: life is not completely about doing things in the best and most correct way all the time.

Now I notice that.

Now when I know that I am going to die.

I am driving down Keyes Road in the small town of Denair, California at approximately sixty-five miles per hour: ten mph over the speed limit.

But, I won't get caught; I never do. Everyone drives over the speed limit.

I know that I am going to be several minutes late to my first job of the day: the post office. I had woken up a quarter of an hour later than usual and had not even had time to eat breakfast.

In fact, the weight of my eyelids was still blurring my vision. "Come on, wake up Jacob," I tell myself, shaking my head vigorously in an attempt to wake up.

I speed up my old Contour to seventy miles per hour. A pair of red and white wig wags appear in my sight as I grow closer to the train tracks, which I will have to cross.

Instinctively, I check the left and right sides of the train tracks from two hundred or so yards away, so I would not have to slow down to do so if I were to do it closer, which would therefore cause me to fall even more behind on time than I already was.

On the right, I saw a bright light down some ways. "Oh, come on!" I shouted furiously to myself. "I am not going to be late."

I know that I will be past the train tracks before the train arrives anyway, considering it is still pretty far away.

Choo choo! The train's voice echoes in my ears reminding me that the train is getting closer, but I still have hope because I have reached the train tracks. I slam on my breaks, not wanting to risk damaging my car, and slowly pass the wig wags, which had begun to inch downwards.

Choo Choo! I hear again.

When I finally take my eyes off the road, and the clock of my car, to check how far the train is, my mind jumps and rewinds to moments earlier. To me driving down Keyes Road. To me speeding up so that I could beat the train in an uneven race.
To my decision that could end my life.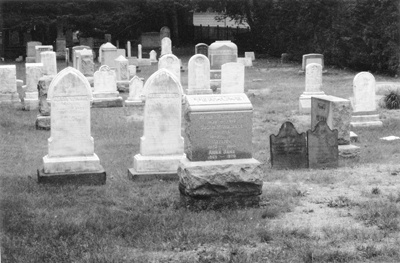 © Chris C., Pequannock, NJ