24 Hours In The Life of Elizabeth
September 2, 2012
I'm Elizabeth. Just Elizabeth, a girl who is just 105 pounds and 5 feet. As I was looking in the mirror, my fingers run over my stomach. Anger boils up. My face is pale. My brownish-curly hair seemed to be falling out. I'm falling apart inside and out. In my head, I hear all these voices with opposing sides. I don't know what to do. It all started with meeting Christian, my best friend who is unique and a lot like me. Our friendship was unbreakable until one day, it had completely changed. My actions couldn't be taken back like it could with words. The unspeakable had happened all in one day it seemed.

There's a knock on my bedroom door from my sister, Holliston who only five years old. Quickly, I pull down my shirt down and act like what happened never did. Holliston had come to see if I wanted to play with her. I was tempted to not play, but decided to have fun with my little sister. We played with dolls, hide n seek, and watched my favorite movie called My Sister's Keeper. I found it greatly inspiring to watch. Surprisingly, I had fun for the first in a while, but deep down I still felt dark and empty. It was as if nothing could get me out of the pit of darkness. Oh no I told myself. Because of this, dinner was coming soon. The thought of food sounded so good. NO I tell myself. To me, I felt my weight was improving and making me happier. Was it really? All the lies; all the secrets. Was it worth it?

Dinner had come. It was Mac n cheese with hot dogs. I ate it like a good girl, but as soon as I finished, crept into my room. I walk slowly to the toilet and bend down on to my knees. As I look in the toilet, shame comes. I get rid of the food with tears flowing down my face. I did this as if I had to. It was a thought that was best for my sake; to make others including myself happier. As I get up, I cleanse my hands and face. I go out to my room and get ready for bed. I feel twice as worse with shamefulness. While I'm laying down in bed, I think of my beloved boyfriend Campbell. He was once my everything, my world. I just don't understand anymore.

It's morning now. As I get ready, I realized how small my feet were. Only a size four!?! Oh my. I'm wearing skinny jeans with a regular t-shirt from hot topic. No big deal. School today is going to be beyond dreadful. As I'm walking to the bus stop, no breakfast either, I'm listening to The Words I Would Say by Sidewalk Prophets. It brought back memories of Christian and I. Memories that won't ever come back. My only fear had come true. I lost her; my one and only best friend. She was like my twin who completely understood me and could read my mind like a psychic. The bus driver comes and greets with a hello, but I say nothing, but smile. On the way to school, I listen to the song on repeat. Depression is starting to take over. I'm at my last resort almost. In my classes, they went by so slow. I didn't even do the work. I couldn't even think straight without thinking about Campbell or Christian or most of all God. I need them more than anything right now. And I know that God will never leave nor forsake me. It's like my favorite verse: Deuteronomy 31:6. I try to let me worries go and trust in the lord, but it's one of the hardest things ever to do.

In math class, a girl had asked if I was alright. I lied with a bright smile on my face. How can I do that? Right now, we're doing proofs for Geometry. They're not all that bad. When it came to group work, I just sat there quietly thinking. My best friend used to always tell me to quit thinking. Oh, how I miss that! Next block, was orchestra with the cello. My cello is so beautiful with smooth wood and a colored bow. Orchestra is the one place that gets things off of my mind. I'm actually focused and play my best especially when it comes to vibrato. It's amazing. Little Russian March is by far the best song; really powerful! I always look forward to that class especially when that's where I met Campbell. We used to always talk whenever the teachers weren't looking and smiled with love sparkling in our eyes. In third and fourth block, I was so out of it, I couldn't even focus. When the bell rung, I saw Christian in the hall at the end of the day, but she doesn't see me. I felt greatly hurt. I just wanted to her to look at me just for one second and maybe in that one second she'd come back, but no. Christian looks as if she had gotten skinnier than me. My world is falling apart.

I'm heading home and by the door is my mom, Claire. I look more like my mom than my dad, but of course my father is not in the picture. Mom greets me, but looks at me as if she's worried. She says nothing about what's bugging her though. I walk into my room and go to sleep. When I wake up, I'm still freezing under the covers, but get up anyways to weigh myself. Last I saw a week ago, it was 105. I had gone down to 99. I still felt unhappy as if it wasn't enough still. I believe I need to lose a little more and maybe I'll be happier again. It's like Christian is losing weight faster than I am! Sadness comes again and I start to wonder how she is. If I hadn't said anything our friendship wouldn't have fell apart, but all I wanted to do was help her. It's kind of funny because I needed help then and still do now. What was I thinking?! I feel like no one cares about me, but a part of me also knows I'm wrong. I just can't seem to wrap around my head that people truly care. I just wish they'd show it.

As I woke up the next day, it was the same routine. I put on my converse shoes, hot topic shirt, and skinny jeans. The thought of food came again, but I tell myself no constantly. It's gone to the point where my stomach doesn't even growl anymore. It's like my stomach is used to it. I'm starting think none of this is normal. Of course, not. Surprisingly, I caved in to honey combs cereal, my all-time favorite. As I hopped on the bus, shame came again and sickness built up. It was overwhelming; the feeling. So when I got to school, I went to the bathroom and got rid of it all and kept going after until blood came and tears had come down. I was shocked. I'm afraid of what's going to happen to body, what I have become. Is this going to go to the point where I'll die? Is it worth dying looking like a stick? Christian walks in the middle of it and just stands there waiting for me to come out. I looked at her and started crying. She had finally come back. She walked up to me and hugged me as if she was never going to let go this time. After all, she was my best friend.

After she had let go, we had a talk about what happened. Apparently, Christian weighs about 93 pounds. I'm worried, but a part of me is also worried about myself, too. Is that so wrong? I look back to the fight we had. I had told on Christian about her problem, but not mine. They didn't even notice that I was going through it, too. All I wanted to do was help her and she seemed to be losing weight faster than me. At first, I never thought my weight would pull off, but it did. They had called her down. Of course, she denied it. After school, she walked towards me furious. We said words towards each other that will be stuck with us forever. It'll never go back. I pray she'll forgive me as I have with her even though we apologized. As we walked out of the bathroom, I walked with her to class. In the halls, I greeted people as we went and complimented people because I believe in, the fact, that even those who smile could be suffering and could use a compliment or smile back. Before bell rung, I gave her another hug and told her to be careful. She told me she would, but it still didn't take my worries away. We had planned to hang during the upcoming weekend and I just can't wait. In English, the teacher talked about Julius Caesar. I thought it was quite ridiculous that the people kept dying by suicide. How is that by honor? Is what I'm doing suicide too? I don't want my family, let alone God to think I'm quitting life like that.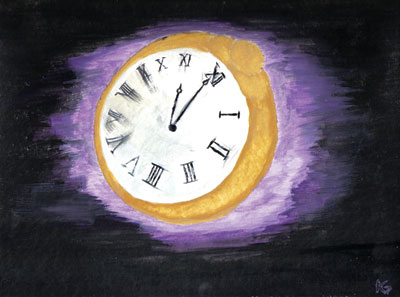 © Kyle G., Clarksville, TN