In a Perfect World
September 1, 2012
We walked through the tall lazy grass, and breathed in. "Do you smell that?" I asked the little ones. They grinned and nodded. The air smelled like clean blossoms, in Spring time. The sun had set over the lush pastures, and the trees happily waved at us with their branches and leaves. We smiled back because we were happy that they were happy; happy to be alive.

"Will it always be like this?" The red-headed little girl asked glancing up at me. I stroked her hair and replied "For as long as we want it to be." She absorbed this, and looked back at me with a grin. "I want that to be forever." I looked at her; at all of them. Our bare feet walked along the cool, rich soil freely leaving traces on our soles. Their bright, doting, yet naive faces so expectant, and I knew it couldn't. It couldn't always be forever.

At the realization of the thought,the rain started. One drop, two, then a full deluge of water delightfully extinguishing our perfect world. We all sat up simultaneously from the circle our heads were in. We looked at the pale, gray sky and the dead trees in derision. We sat quietly for a moment as the lingering feeling of lightness of the dream washed over us.

"Can't we go back?" The brown-headed little boy asked expectantly. They all turned to me hopeful, and before I had time to answer I heard the rustling of leaves; footsteps. I turned to see another little boy on the hill, and I grinned. He did too, and I called out to him:

"Hurry up! We're dreaming."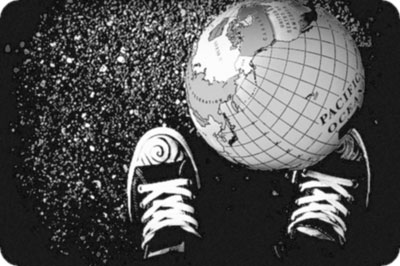 © Kailey E., Crownsville, MD