Undecided
August 7, 2012
There it was, eyeing me suspiciously. A small plus sign, blackened on the peed upon stick. I'd always hated math. I could swear it was looking at me, a silver cross in my father's home, condemning the life I had chosen. My hands wove through shag carpeting. It felt rough today, and the purple toilet seat cover was losing its hue. The thick smell of cigars and baking bread drifted through the bathroom window. This was no place to raise a child.

Bobby loved purple. In his office at the insurance company, small purple frames of pictures of us getting married lay strewn about his desk. One day he went to the Dollar Store and came back with throw pillows, the toilet seat cover, and candles. He sauntered through the door, waving a plastic bag. "Something to cover up that smell!" He said, drifting through the kitchen and kissing me lightly on the cheek. He never kissed me anymore.
Bobby is gay. I'm not sure how I never realized this before we got married. I suppose I was so desperate that I would just close my eyes to all of the indications. On our most recent anniversary, I tried to seduce him. After the night, he sat me down on the couch and told me that he was gay. The whole time his hand was on my shoulder, as he practically told me he didn't love me anymore. I had lit the purple candles, cleaned the house, and put my doubts to sleep for the night. And here was the result.

"June, why are you up so early?" He said, face scrunched as he looked down at my body on the bathroom floor. "I...I was going to take a shower, but I couldn't find a towel. I was just looking in the cabinet." I replied weakly. He reaches out his hand to help me up. I stand and reach for the comb. Black hair pulls away from my scalp and onto the brush. The mirror looks resentful, dark circles under a stranger's eyes.
He closes the door gently, only mustering a quiet goodbye. It was my day off from the preschool, so I had time. When it came down to it, I wasn't happy here. I'd always thought this was what I wanted, but I wasn't so sure. A husband who makes good money, a baby on the way. Never did I think when I found out I was pregnant would I start to pack a bag. I guess I wasn't a little girl anymore.

The doorbell must not have been happy with me today. It screeched, as if I had just stolen its child. "Coming." I said quietly, not speaking loud enough for any human being to hear me over the noise. "June? Are you in there? It's mother. Open the door, June!" Mother yelled through a heavy wooden door. She had always been someone who visited on a limb. I remember when I was young, how she would hand me a bag packed with supplies and tell me we were going for a road trip. "June, dear, please open the door." I reached for the handle and turned it quickly. I pulled a smile from the recesses of my face and she pulled me toward her. "We haven't spoken in a while, I was worried about you."
We sat down on the couch and I suddenly became highly aware of my stomach. Mother had me later in life, and had always looked down somewhat on young mothers. "So, how's Robert doing?" She smiled sort of sadly, as if she knew something. "He's liking the job, it's bringing in money." I didn't bother to mention that he didn't touch me anymore, closing his eyes to my efforts at staying with him. He was always chipper, sitting down with me to watch a cliche movie.
Her hands groped in a brightly colored clutch, drawing out a silver cross. "You are not this." She closed her eyes and cleanly split it in two. She had an iron grip on my hand, trying to convey something; a fingertip message tapped onto an unfeeling palm. Mother stood and walked to the door, dragging her body. Opening the door, she slid two bags into the room. "He wasn't a bad man, he just loved me too fiercely. I didn't know what to do anymore, Junie. So I packed, and I had to see you before I left." I turned around, walked to my room, and flung my half packed bags across the apartment floor. We looked at them like a newly found gun, gleaming, dangerous. I knelt down, and pulled clothes, books, and toiletries from the bag and onto the floor. She bent down and began to take the items to where they belonged.
The bakery was closing for the night, and only a few cynical loiterers stood outside the building. Bobby took my hand and my mother's. One of my eyelashes fell out that night. He held it carefully, closed his eyes, and made a wish. At least tonight, there was no place I'd rather be than winning this battle against myself. I wasn't going anywhere.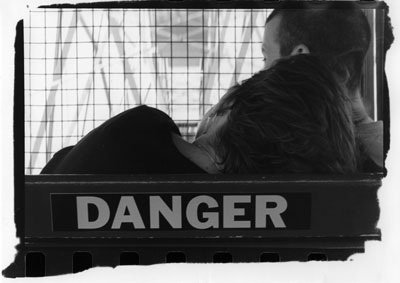 © Katie P., Bethesda, MD