Something Awry
August 1, 2012
Back and forth.
Back and forth, it's a rhythm. Hand's gripping the iron chains, bottom barely balanced on a small piece of black rubber. Feet swinging in and out, toes pointed and legs crossed. Straight, then bend. Blonde hair flying then stuck up against a sweaty neck. The little muscle needed is used to the full extent. Back and forth.
Her eyes squint in the evening sun just disappearing behind manicured pines above brightly painted cookie-cutter homes. The sinking sun is melting into the rest of the blue, oranges, pinks, and purples and swirled in the blue like cotton candy. The park around her is empty, just the way she likes it. The swing set faces a light pole, similar to the one in Narnia, but without the magical properties. It's an average light pole, standing in the dead dry brown grass alone. Back and forth.
And he's standing there, his hair messed up and tousled. The corners of his mouth raised and his eyes are gleaming and sparkling with amusement. His jaw line hard but his skin is soft. He slouches against the light pole, standing in green grass. He reaches one hand out for her to take it, but she continues swinging. She knows something is awry.
Back and forth.
He is gone, and the light pole stands in the dead dry brown grass alone.
Back and forth.
The girl leaves soon after, the tear marks still visible in her face, the loneliness and sadness still in her eyes. She realizes what was awry. There was no bullet in his head.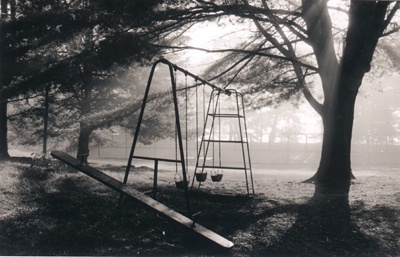 © by Steve S., Marblehead, MA