I Love Her Anyway
July 17, 2012
With my back against the jagged brick wall of the local bar, I conceal my swollen eye with one hand, the other grasping the rough pavement, struggling to hold in a scream that would let lose all the anger gathered over the years. The pain comes in waves and with each passing wave, I grimace in pain, hoping the scream won't slip out of my lips this time. I don't want to be found. I don't want to let the agonizing pain overpower me, forcing me to cry out for mercy. I don't want some guy in the bar to hear my shrieks, wander into the shadows, and find my battered body leaning against the antediluvian brick wall. I don't want him to feel pity for me or even plea for me to let him help. So, I don't scream. Instead, I nonchalantly raise my bloody hand to my face and bury my swollen slips into my hand's flesh, an attempt to muffle the cries that I know are soon to come. While I stare up into the dazzling night sky, I see images of how all this happened to me, how I was brutally abused by my own mother. I guess compared to previous beatings, this one isn't that bad. I mean, I'm not going to die...not this time at least. But as I gape at some of the bloody cuts and darkened bruises that have already begun to form, I wonder if something else inside me is dying...my love for my mother. I have always loved my mother but, it's not just because she pay the rent...it's because I actually love her, despite her regular beatings. But now, I wonder if I could still love her and can be happy when she finally comes home at night, half drunk and with Fred wrapped in her arms as they head into the back room not even glancing at me. Fred. Fred is the one who caused all this. He was trying to do something horrible to her but, she didn't even care. And when I tried to come to her rescue, what did she do? She gave Fred permission to beat me and then joined in herself. Even though I don't feel actual pain from this, I grimace at the memory and then make a vow to myself. The next time my mother is in trouble, I won't help. No matter how much trouble she is in, I won't help. And so, I fall asleep telling myself this and vowing to keep the promise but, deep down inside...I'm hoping that there won't ever be a need for me to help her again, because I don't know if I could stop myself from doing so.

At first I think I'm just dreaming but then, when I open my eyes, I know I'm not. Shrieks, a series of them echoing from around the corner. But that bone chilling noise isn't what is so horrendous about this situation...it's that I know those screams all too well. It's my mother, and she's in trouble. Even though I vowed not to help, I can't help but run to the scene anyway. When I get there, I am once again stunned by Fred's actions. Fred was beating my mother just as he had beaten me. I didn't know what to do...I promised I wouldn't help but, this was serious. Within moments, I've made up my mind on what I am going to do. Some stupid vow to myself isn't more important than my mother. Just as I was about to reach Fred and shove him out of the way, he turned around and bashed me on the head with a stick he had been grasping in his own hands...and then, everything went black.

When I finally come to, I'm facing that horrible brick wall again so, I slowly sit up and look around. The first thing I notice is how pretty the mountains are. They silently crouch in the background watching our little town with their heavy shawl of fog wrapped tightly around their shoulders. Then, I remember my mother. Frantically, I whip around and see her limp body lying on the rocky pavement. I know I promised not to help her but, this is different...I didn't know she would be in this much trouble. As I lift her swollen body up off the ground, she starts to come to. Her lips are chapped and her tongue is dry so, I understand why she is finding it so hard to speak. Carrying her small and anorexic body back to the car, she begins to speak the words I've been hoping to hear for a long time.

"Maria...I'm sorry," she takes a big swig of water from the water body I've just handed her before continuing, "I'm sorry...things are going to change around here. I got rid of Fred and...he won't be bothering us anymore. No more late nights at the bar, too," my mother mumbles.

"Alright," is all I can say to her right now.

"I'm going to change...for the better, Maria. I promise you, this won't happen again. And one more thing...thank you for watching out for me all these years. Don't worry, you won't have to do it ever again...I'm going to change." she whispers as her chest heaves up and down.

I give her a quick smile and murmur, "I know you will, Mom," just to convince her that I believe every word she says...but secretly, I know the truth. My mother won't change. Ever. But...I love her anyway.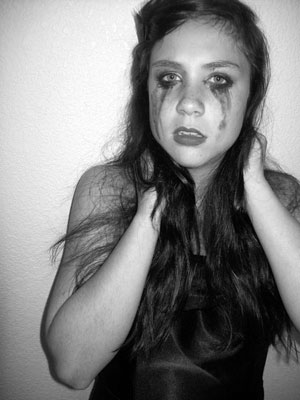 © Tiana D., Monument, CO