The Porch Swing
June 24, 2012
The old porch swing had been there for years. It had been left here for me, along with the house, by my parents. I am saddened by my loneliness, a southern girl should have a family by now, maybe a dog or two.
As I look down at my tear-stained white gloves, I hear footsteps ahead of me. Jim is here, my smile is back.
"Hello, sweetheart." I said to him as he sat next to me.
"Good morning, Claire."
We sit like this for a while, silent but content. I watch as couples pass by with strollers, the strollers I should have. People having conversations and laughing with their friends. The friends I had were at home with their families. I look at the bright sky and see happiness. The year is 1952. I am twenty-nine years old... and I have none of these things. I spent years studying. Somehow tradition slipped my mind.
"Are you alright?" Jim's voice woke me from the trance I didn't know I was in.
"Yes darling, I'm fine." The smile that I give him is sincere, but I'm trying hard not to let the tears fall or my face become red. Since we were children Jim knew me best. Though the last thing I need is his suspicion staring me in the face. I look up when he rises from the porch swing.
"Let's go inside." He takes my hand and I follow him.
I sit down at the kitchen table while he searches for two cups. His coffee, my tea.
As I'm slowly sipping my drink he clears his throat.
"Dear, I know we're quite fond of each other."
Hearing that makes me feel better, I take his hand in mine.
"And we've been together for a long time. That's why I want you to know something. Claire I--"
His cup fell from the table. When it was in his hand, he looked up at me from the floor.
The small box he placed on the table stole my breath.
"Will you?" He asked.
I nodded quickly and almost lost balance trying to hug him.
"I have my smile again," I told him.
"I never noticed it left," he whispered.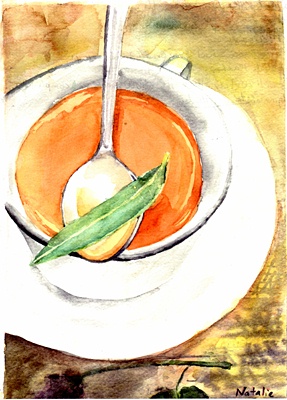 © Natalie C., San Bernadino, CA