Septem Peccada Mortalia
June 23, 2012
Envy through emptiness, I look out into the crowds of the halls, able to go about their daily lives nearly untouched by reality's grasp. I crave the simplicity of a mere stroll to class, the normality of a quick conversation about all that didn't matter. But I'm hidden in myself, the introvert I've become. Rather than going about in fits of laughter as my memories prove I once did, I stand in solitude, observing from my crouch, the sins in us all we've become too accustomed to.

My mind jumps to the halls center, I hear a sick tune. Hips swinging to the beat of their heeled steps,a well known trio composed a sweet song for the eyes of every jaw-dropped boy in the hall. Clothes cropped close to skin, flaunting bodies every girl was desperate for. Not a flaw to be found. Bodies model thin, they had nothing to hide. Facades of perfection faultlessly sculpted by hands greedy for beauty. Authority. Status. As if everyone was not already held in the palms of their hands. Vanity flowing through their veins erecting their noises to the air, looking down above all who crawled below such royalty.

Dark eyed boy watches them swing. Through his dilated pupils shone the scene he'd see every night. Room littered with crumpled cans and filled to its brim with thick white smoke. Each day he'd fill his cup with gluttony, chug by chug washing himself away…no one caring enough to stop him. Each morning he's left in a daze, motivation washed down his throat, puffed out of his blunt. Sloth engulfs him, leaving his future in the haze. Over indulgence in the forbidden fruits leaves him completely wasted; no drive than to get past tomorrow.

My ears catch chaos on the verge of eruption. Metal rattles. A petite body thrown hard against rows of lockers. As brawn hands loosened grip on his collar, he crumples to a helpless slump. My eyes shoot from the torn boy to those of the mass in front of him. They revealed a hidden secret, truth in the scene. For the tables turn and I see actuality. A soft core, hardened, trapped in the angst of emotion- hidden by a muscled exterior. His eyes flicker from me to the heap with ire in his gaze run with fear of his own heart. Such sinful wrath fueled by his own insecurity of the curve in his straight-coursed path.

The corner holds a flirtatious two bonded by months of courtship, by the title of a couple. A wink, and kiss on the cheek. Her lips traced with their secret plans, his hungry for the taste of hers. Once the bell signaled the day's end, they'd find their way to a spot that had become their own. When attention is payed, one can sense their hearts beating hard with the anticipation for what lye ahead. What they shared to be intimacy of young love, spawned by the warmth of heart, many believed…but look into the depths of their eyes and see nothing but desire for sinful touch; driven by a shared rush of lust.

Few would have seen what lies behind the surface of the crowds. Deathly sins weaved into such normal every day routines. Yet somehow there was still burning passion to be normal again for, feeling any sin was better than feeling nothing at all.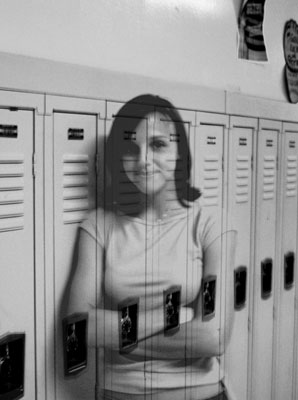 © Amy D., Troy, OH