Speed Demon
May 31, 2012
The meter's hand hung limply at zero. A few moments ago, it had climbed to sixty. This was before LeAnn had realized the red and blue spinning lights following her in a thirty-five mph zone and decided to pull over. She waited impatiently in the driver's seat, feeling fortunate that she had remembered to buckle her seat belt this time. The police officer's steady footsteps marked the seconds passing by that she was late.


"Howdy Ma'am, do you realize how fast you were going?" the middle-aged man asked in a twangy Southern drawl.

"I do now, officer," LeAnn replied, squirming in the hot seat.

"I'm going to need to see your ID," he said, as a matter of fact.


"Alright, please give me a second," LeAnn excused as she ransacked her glove compartment. A tightly folded atlas sprung out like an accordion. Unused paper restaurant napkins piled in a stack on the passenger seat. Hand sanitizer gel oozed on the hairy lint roller. Amidst the clutter, she found a picture that her daughter, Jade, drew.


It was the masterpiece of the century. The rainbow scribbles held a deeper, hidden meaning that could stump even the Louvre's art curators. LeAnn stared at the crumpled paper, which Jade had likely long forgotten about. Her eyes followed the mesmerizing swirls as ants would march in search of sugar.

"Jade, Jade, Jade," she thought.

"Ma'am?" the officer interrupted. She snapped into motion and snatched her drivers' license from her wallet and handed it over. LeAnn had a crafty idea.

"Officer, I hate to be a bother, but my daughter is waiting at school for me to pick her up and I'm awfully late. I know you and I wouldn't want her to be waiting alone," she reasoned pitifully.
The man's lips scrunched to one side and he shrugged his shoulders.

"You know what, ma'am? I've got a daughter, too and I know just what you feel. You best be going. Go on, just be mindful next time," he said.

LeAnn smiled brightly and packed the contents of the glove compartment away, save for the drawing. "Yes, of course! I'll be more careful from now on. Thank you so much!" she cheered shrilly as her mini-van slowly lurched off the sidewalk pavement. The rubber wheels crunched on loose gravel.

"Y'all have a good one," he said, waving good-bye. LeAnn steered back into the road and watched as the meter hand crawled to thirty, forty, fifty, sixty...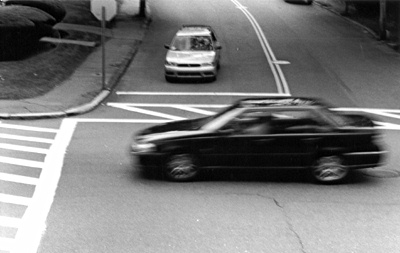 © Ed J., Marblehead, MA