If today was your last day...
May 31, 2012
Imagine, imagine if today was your last day. What would you do differently? Who would you go too see? How would you spend those last 24 hours?

I thought about it for a moment, and made up my mind on how I will spend my last day on earth.

I would wake up at 12:01 am exactly. Why sleep on your last day of your life? I would go to my parents room and climb in between my mom and dad. Who cares if I am 17, in there king size bed between my two parents is the perfect place.

I would lay there silently just to take it in, before I wake up my mother and admit to breaking that vase she loved so dearly 8 years before. I would tell her I am sorry for everything I did wrong, and explain just how much I love her. I would wake my dad and tell him I will forever be daddy's little girl.

Then I would go just to watch my baby sister sleep so peacefully, go down the hall and wake all my sisters tell each of them just how much they mean to me. I would ask if they would like to go swing one last time. I would swing so ever high on that wooden swing under the oak trees.

Then I would drive down town to my best guy friends house. I would walk up his porch and knock until he arrives and I would ask him to come with me. We would drive down to the beach and park my car right where the water rushes over the sand. We will climb out and walk towards the water where I would turn to him and say how I really feel about him. I would tell him I have always loved him and kiss him ever so gently.

We would stay at the beach for a while before driving back to my place where I would help my mother fix my favorite meal. Fried chicken, potatoes and macaroni of course. I would kiss my mother on the cheek and thank her for being her. I would sit at the table with my family one last time, say grace and then eat.

After supper I would tell my sisters to grab some jars and lets catch some lighting bugs. We would run and jump, laugh and try to see who can catch the most. I would then ask them all to lay down on the ground just to watch the stars, I would lean over to my best guy friend kiss him for a long time. Midnight would be a few hours away and I would go in just to sit with my family once more.

Minutes before my last day on earth ends, I would laugh one more time, say I love you again and again, hug them tight, and kiss each one, then end my life hugging my best guy friend.

That is how I would spend my last day on earth, if today was my last day.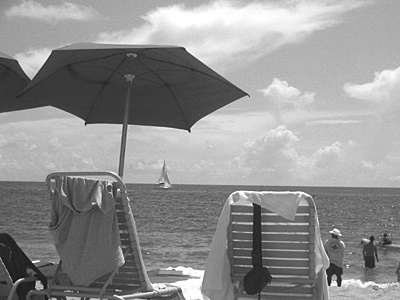 © Emily O., Boynton Beach, FL