Euphoria
May 28, 2012
May 28, 2012

Tonight I felt a sense of euphoria. It had just started sprinkling outside, so I sat atop the wooden bench on the cement porch. My father, whom I believe always questions my sanity with concern, followed me. We sat there staring at the summer storm. The rain fell harder and harder; it made a soft sound on the thirsty grass and sidewalk. Each drop looked like one continuous thread of silk, fishing lines falling from the painted sky. The coolest occurrence was when the wind would swirl through the pleading blankets of rain, appearing as white puffs of smoke or angels' shadows. At some point my mom stepped outside and I told her my dream of moving into a new house. She was less approving than my dad. I will not give up, however. I am very persistent.

After they went inside, I took it upon myself to take the risk of getting struck by lightning to enjoy a dance in the summer rain. It was surprisingly cold. I pretended that I was in some unrealistic romance movie, seconds from getting snogged full-on by one sexy Ryan Gosling in a drenched white button-down. I regained my sappy composure and focused mainly on basking in this manifestation of bliss. The curls in my hair from the day before fell out, turning into beachy—if a little frizzy—waves. It was fun to make myself a lunatic, singing and dancing for a few minutes in the downpour; it felt like hours.

Rain, to me, is nectar falling from the heavens. It makes everything more dramatic, fun, and inevitably wet. So what if I would have looked like a complete nutcase to my peers of the teenage years; they don't know a thing about fun. Anyway, I went back inside and toweled off, but I found myself yearning to venture back outside to view the vivid green brush, to possibly glimpse an electrified bolt of lightning. I ventured out to see my summer storm one last time.

I wish life was as simple as a warm shower of rain. I wish that I lived on a fluffy white cloud, close enough to the sun's rays to stay brilliant and happy. And if I had any troubles I could simply blow them away and they would fall as pattering raindrops to someplace else. All day I would drift in the blue-gray sky the color of my eyes, coasting along, taking in the panorama of the land below as if from a hot-air balloon. The nighttime would turn me into a dazzling star, one of many in a constellation like diamonds on black satin. Never would I tire of this routine; everything would be perfect.

A girl can dream.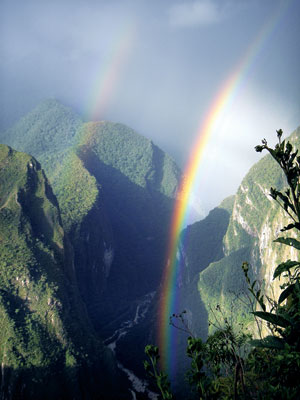 © Benjamin C., E. Norwich, NY