No Escape
May 24, 2012
She smells his stench stalking her from behind, feeling his hands getting ready to pounce, hearing each of his footsteps as he gets closer. He turns her around and all she sees is his sick grin illuminated by the street lights. He kisses her and all she tastes is the liquor on his breath. She feels the cheap taste of alcohol surrounding her. James is an alcoholic. It destroyed him till now there isn't even a trace of who he used to be. It consumed him and his being and left her with this. The man who drags her to this place called home, with his hands gripped tightly around her wrists. The door swings open and she is thrown to the floor boards with a loud thump to the ground.
"Did you hear that Mark? It's happening again! That is the 3rd time this week. I told you we need to call the police." says the woman who always gives her a polite smile of sympathy.
"If she wanted to leave him, she would have. We shouldn't but in." explains the man who always looks at her with hidden desire.
"How can you live with yourself knowing this is going on? You disgust me." She replies secretly hating herself for caring about the girl who her husbands' eyes always wonder too when he thinks she can't see.
"I just think it is none of our business. She can take care of herself." Mark says while awkwardly moving his food on his plate. Then suddenly they hear a faint scream, Joanne comes to realization of what the girl is screaming for before Mark does and grabs the phone with no hesitation.
"What're you doing?!" Mark exclaims.
"Did you not understand what that poor girl was saying? She needs OUR help and if you won't give it to her I sure as hell will." Says Joanne in utter shock that he could be so heartless, even to this helpless girl.
"911, how may I help you?" says a kind, calm voice on the phone.
"Hi, me and my husband heard a cry for help next door. We've been suspicious about it but now we know for sure. That drunk has been beating her." Joanne explains to the woman.
"Okay ma'am. We're sending someone to help as we speak." says the woman on the other line.
The line disconnects.
She lies there waiting for her nightmares to come alive. His hand swings down slashing across her profile in response. A sharp sting arrives not long after the blow as the newly risen rosy hand-print appears on her cheek. She dreams of one day leaving and finding someone who won't hurt her the way he does. Sirens begin to fill her ears; she hears heavy foot-steps treading outside. He'd finally be cause. Then comes the loud knock at the door.
"James Debarf, it's the police. Open the door or we'll have to forcedly come inside." Says a rusty voice that you can tell has done this many times before.

James stumbles across the room in drunken confusion trying to find the door where the noise is beckoning from. But he is too late. With a vociferous thud the door falls. The swat team comes in and sees her lying on the floor beaten and bruised. He wouldn't touch her again; the officer saved her from the treacherous nightmare that she didn't have enough strength to leave on her own. Scars don't last forever but memories haunted her every waking thought. She ran away to become free of him, to start a new. Hopeful and encourages like she never was with him around, she fled.

He's gone yet still with her, she sees him sometimes, even feels his harsh touch. Whenever she thinks she misses him in the slightest way, the marks he left on her skin scream at her saying she did the right thing. So she lived happily ever after, till the day her found her.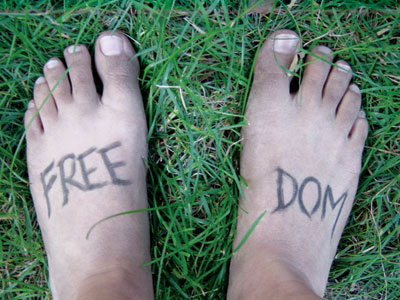 © Anna B., Northville, MI