Darrell
May 2, 2012
I have all of these fantasies and "things to do before I die." I checked off number 71 today.

There's this bus-stop near my apartment complex and it has the power to take you to wherever the bus drivers are told to take you. The concrete is nicked and full of cracks. The blue sign that's present next to most bus-stops is warped to the point where the top portion protrudes nearly parallel to the ground. The roots of trees have pulled up the sidewalk at awkward angles and skateboarders have to stop and pick up their boards if they're not "man enough" to do their little skater hop over the gaps in between the safe concrete. I know of this homeless man and his beat-up golden retriever that hang around there for hours at a time, and after a couple of years, the bus drivers know to just keep driving if the poor guy is the only person sitting on that lonely, brown bench. Next to the bus stop there's an even lonelier payphone that's said to be haunted by the middle schoolers in the area. Sometimes, I'll walk by and there's the homeless man, having some fake conversation with his made-up girlfriend; his dog listens like it understands. Maybe it does.

This morning, I sat on that bus stop. I waited for the homeless man. 10:27 and fifteen seconds. His dog trailed along and it seemed to be getting enough food. He took a seat and stared off into the distance for a good three minutes. It was at this point that I struck up a conversation. Apparently, the man's name was Darrell and his dog was Yuppie. Darrell had been a millionaire at one point and was close friends with Hugh Heffner. He had multiple war commendations and his old mansion had an elevator with a plexiglass floor; sometimes, he would invite "his b******" over and they'd have a grand time in the lift. Yuppie was just one of the first dogs to reach space and come back. Apparently.

I took in a deep breath

And then I told "Darrell" my life story. I told him about my tears and about my first love, who ended up being my last love, and about my successes and failures. I told him everything I could. He just sat there listening, looking so wise for a man that was so insane. So unstable. When I was done, I was on the verge of tears and he was on the verge of starvation, so I took him to McDonald's and bought him a Big Mac combo meal. He scarfed down his food and I just watched, wondering how man was so vulnerable to so many things, yet so dominant over the planet.

We parted ways after that. He went back to whatever pit from which he originated and I came home to sit down in front of my computer and write about my experiences with Darrell, the greatest loser to ever exist.

Tomorrow, I will visit him again. Tomorrow, he will have forgotten me. Tomorrow, nothing will have changed.

But that's okay. My story may have entered and exited his mind in seconds, but the simple truth is that today, I was heard. That's all I ever really wanted.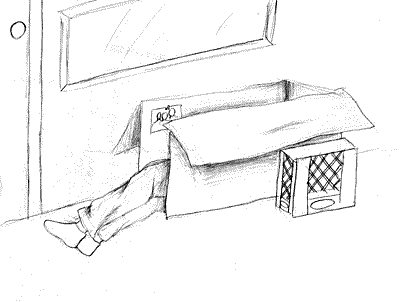 © Donte P., Philadelphia, PA