The Good Days
May 15, 2012
Four years ago, the soundtrack for falling asleep was the finely tuned music box my father had bought me in Germany. Now, that soundtrack is my parents arguing nonstop about how much they despise each other and everything the other did wrong. Four years ago, 7 o'clock sharp every night meant family dinner; my mom made delectable food and my dad always wore a huge grin as she served it for us. Now, no one ever has a smile on their face and we never eat as a family. Four years ago, both my mother and my father were there supporting me at every one of my baseball games. Now, I can scarcely get one of them to drive me to practice. Four years ago, we went to church every Sunday; not only did we go, but we all went together and loved it as much as we loved each other. Now, I don't even know if we'll go for Easter. If we do, it'll be in separate pews, or even separate services. Four years ago, when Daddy got home from work, the first order of business was to tell my mother he loved her and to kiss her on the cheek. Now, he doesn't even utter hello to her. Four years ago, I got tucked in every night by mom and dad. Now, if one of them even mutters "goodnight" as I walk up the stairs to bed, it's a good day.

Good days. That's what I have to try hard to keep in my memory. Because the good days have been discarded, thrown away, rotting memories that will never come back. Every day is a bad day. Filled with loneliness and that feeling of not being whole. My future dims as my once unshakable faith is trashed and the hope for my family is thrown away all together. No caring. No empathy—from either of them. They've already torn each other apart, and their wounds break me as well. Hate shadows their desire to even listen to the other's unborn replies. A minute never passes without me thinking about how my life is crumbling around me. I'm trapped in a tunnel with people pulling me both ways, and I'm stuck in the middle. This hatred they advocate to me will never end; it's going to affect me the rest of my life. Who are they to tell me what values are, and what I should do. They've shattered every bit of humanity in them, and they expect me to grow up and have what they never gave me. Love. The thing that once united them is completely lost from their lives. One day, they'll realize what they've done to me, after the day that they get over what they've done to themselves.


I don't know what's happened in these past four years, but one thing I do know is that now, I'll never get to go back to the good days.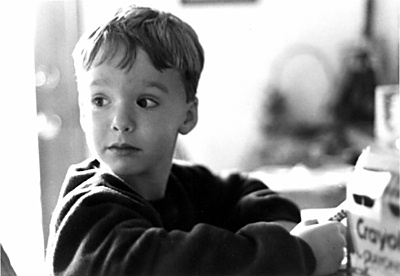 © Caycie G., Rochester, MA