A Big Christmas Surprise
May 14, 2012
I strode gracefully down the attic steps. My brother Alex passed by me in a rush as I entered our kitchen. Mom was cooking away, so I got myself a bowl of cereal for breakfast.

I glanced around the kitchen table, and across at my younger sisters – Lily and Sophia. The two of them were laughing at a Christmas card sent to us.

"Oh, good morning Katelyn," Mom sighed, finally realizing I had arrived.

"Hey Mom, what was our Christmas picture this year?" I asked.

"The one that Ian wasn't in because he threw up right before it."

"No that was last year's," I declared.

"Hm. Oh! We stood in front of the house, and Alex slipped down the hill, so he had a streak of mud down his side."

"No...that was two years ago. Did we even take one this year?"

Mom stared blankly at me, dropping the bag of peas on the ground. "Katelyn," she said to me nervously, "Gather up your siblings and your dad. Then take everybody outside." She whipped off her apron and sped downstairs to her bedroom. "Christmas picture time!" she called to all my siblings.

"I'll get the guinea pigs," announced Sophia as she climbed up the stairs to her and Lily's bedroom to get dressed.

"Lily," I said to my sister, "Please tell anybody upstairs to get ready and meet us outside."

"Yes sir - ma'am!" she saluted me. I zoomed outside, and all eight of my siblings scrambled out behind me as they fixed their outfits.

"I have the camera!" shouted Dad, fiddling with his belt and bow tie. He looked nice for having to be ready on such short notice.

A lady taking a morning jog strolled by us, so Mom flagged her down to take our Christmas picture.

"Everybody say cheese!" called the lady, huffing from being out of breath. We all smiled (I think), but my mom thanked the lady, and rushed off to the grocery store to print the pictures without even taking a look at them. Luckily our local grocery store was open on Christmas morning. Otherwise Mom would've been in even more of a tizzy. Unfortunately you never know how the picture is going to look when you have eight siblings, 3 of which are under the age of six!

"Now everyone needs to go inside and find a seat in the living room. Katelyn and Alex have some things to share with you guys. Plus we need to organize the gift-opening. Would you mind taking that over, too Kate?" Dad questioned me as my siblings began hustling inside to find seats beside their favorite sister or brother.

"Sure thing Dad."

Inside, Alex and I stood in the front of the living room to address today's agenda.

"First, let me make sure everyone is here," I explained. I began going through all of my brothers' and sisters' names in my head.

Jessica who is 3 years old, Rosie who is 4 years old, Heidi who is 5 years old, Daniel who is 7 years old, Ian who is 10 years old, Claire who is 11 years old, Lily who is 13 years old, me (I'm 14 years old), and Alex who is 16 years old.

"Everyone's here!" I exclaimed.

"Not everyone!" a voice called from the front door.

"Grandma!" we all screamed and raced to the door to greet her.

"What's are you all doing just laying around in the living room?" she asked us.

"Alex and I were just about to explain how our day is going to go and how we are going to organize gift-opening. But now that you're here, would you like to take over?" I tried to explain as calmly as possible. Mom and Dad had a great surprise planned, but Grandma kind of ruined it by getting to our house so early.

"Our plans for today are to open presents, have lunch, and then we are going to do something real special! We are going to choose where you guys want to go to in Disney World first! Epcot, Magic Kingdom, Animal Kingdom, or Hollywood Studios?"

"Are you saying you're taking us to Disney World?" exclaimed Heidi. "Will I get to meet the princesses like Snow White and Cinderella?"

"Yes we are going to Disney. We have a flight to Disney that leaves at 9 o'clock tonight which will get us to Florida by 11 o'clock. We will sign into our hotel and start our adventures tomorrow. You may get to meet some of the princesses, yes," Grandma said enthusiastically. Alex and I were the only two that knew about the trip other than our parents and Grandma.

"Are Mommy and Daddy coming?" Jessica asked, nervously sucking her thumb.

"Of course sweetie," I told her, scooping her up in my arms and cradling her like a little baby.

"Now onto presents. Who cares a diddly-do-darn about organization. Go downstairs, all of you, and find the presents that are yours!" Grandma bellowed. All of the kids raced down the steps to find the presents that were theirs. This should be a very interesting Christmas.

10 hours later we were just boarding our airplane to Florida. Most of my siblings said they were going to sleep the whole way to Florida yet a few told me they were gonna stay wide awake! Alex and I were supposed to stay awake to help Mom and Dad with the kids.

Once we were all seated and ready for take off, one of the flight attendants came on over the intercom to explain to us safety precautions while another flight attendant strutted down the aisle showing off the different gadgets we were supposed to use in case of various emergencies.

Finally we were taking flight. My ears popped, and I could tell most of my sibling's ears had popped too by they way they were cringing. After about fifteen minutes of adjustment, many of the kids fell asleep. The only people who were still awake were Mom, Alex, Lily, Heidi (because she was scared), and me. Grandma and Dad both bailed out even before Jessica and Rosie.

We soared above the darkened night above the dreamy clouds towards Florida. The whole flight there I had Heidi seated on my lap to calm her down, and we whispered stories to each other. While most of the other passengers had fallen asleep, Heidi and I stayed awake and continued telling funny stories to each other. Soon enough we were landing in Florida and I couldn't believe we were going the the magical place called Disney World.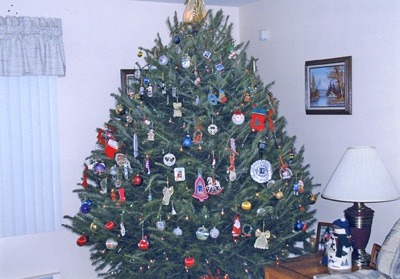 © Brian N., Mildford, CT