Pocahontas
April 28, 2012
As I walked throughout the depths of the forest I spotted a white man with his hands tied with rope. Our tribe had clubs in their hands, and were prepared to kill him. I ran swiftly and laid my head in his arms. I could feel his relief. My father told me get out of his way, but I didn't want the white man to lose his life.


"Please father, let him go. He's innocent and never harmed us," I pleaded in my native tongue.


My father thought for awhile, but wasn't pleased. Sooner or later he nodded, and let him go. As the Powhatans released him, they threw the white man to the ground. The white man wiped the grime and dirt that was on his face. I stared at his hands, which had a red scar from the rope. He got up and headed towards me.


"Captain John…Smith," he said with his hands and pointed at himself.


"Pocahontas…," I said and pointed at myself.


As the days passed by, John Smith and the other colonists made shelters nearby. I visited them occasionally, and brought them small gifts and food. Without the food they would've starved to death. When I would talk to John Smith, I locked my eyes into his, and my heart would melt into them. I slowly started to learn their language called English.


One day, I heard my father talking to our tribe and I stopped and hid behind a tree.


"The colonists have lived long enough on our land. We have helped them, but have they helped us? It's time to plan an attack. Tomorrow we gather our supplies, and the day after we will strike," my father planned out.


I quickly ran to the colonists camp, and entered John Smith's room.


"John! My father attack you after tomorrow. Warn your people!" I exclaimed.


After that day, I never saw John Smith again. He packed his belongings, fled away from the camp, and said he would go to a place far away called Britain . He handed me a small gift before he left.

"Thank you Pocahontas for all that you have done. You saved my life the first time I caught a glimpse of you. I owe you so much, but this small gift is all I have for you. Please take it and remember me. You'll always be in my heart and I will never forget what you have done," he said.

His words astonished me, and I cried into his arms. I opened the small gift and it was a blanket. As he scampered into the darkness with a group of men, I smothered my face into the blanket and dissolved into tears.

A few years later, our tribe captured the colonists and took away their weapons. I never understood why we never had peace. After a few days, my father released them, but he refused to give them their weapons. I begged my father to release them because I felt like something bad was going to happen. When he wouldn't listen, I just turned around and headed to my tepee.

When I woke up, my surroundings looked different. I looked around and saw white men surrounded around me. I started to shout my father's name, but a man covered my mouth. Then, my eyes filled up with hot tears.

The man explained to me why he kidnapped me in our language. I dropped my mouth when I heard my father wouldn't give them their weapons. He is so stubborn! The man who talked to me was named John Rolfe. Oh, how I wish John Smith was here even though he fled to Britain for his own good!

As I stayed captive in their small shelter, they talked about their creator called God. They talked about how He created humans, and made this world. Their system of belief is called Christianity. As I excelled my knowledge about their belief, my belief of the spirit world faded away.

John Rolfe visited me often, and I fell in love with him. Eventually, he asked me my hand in marriage and I accepted. We got married in the church, and I changed my name to Lady Rebecca Rolfe. After the wedding, I moved into John's home. I looked around and saw various sketches of me. I figured our that John did truly love me. He entered and handed me a brand new dress.

After a few months, I bore a child. John and I decided to name it Thomas. After I gave birth, John took him home. The midwife told me that I had to stay in the tepee to recover because I had a high fever. The tepee felt so peaceful and quiet after everyone left. My eyes started to fell heavy, and fell asleep.

When I woke up, I heard yelling. I started to cough vigorously. Hot flames crackled and enclosed around me. Outside, I saw shadows running past. I started to scream but I felt as if no one could hear me. I got up from the straw bed, and fell down. My skirt was caught on the tepee. I quickly untangled it and yanked it out. Finally, I escaped the flames of death. I slowly walked into the forest and collapsed in a pile of sticks. I took slow breaths of air, and I could hear my heart beating fast. I felt my head spinning. Drowsiness lingered around me and I fell asleep.

I jumped awake. I heard a sudden crunch. It could be an animal, but I was unsure. I stood up and made a dash, but I didn't go far. An arrow pierced into my chest and I toppled into the dirt. I slowly took huge breaths of air. As I looked up, I spotted my killer. Abruptly, darkness overcame me.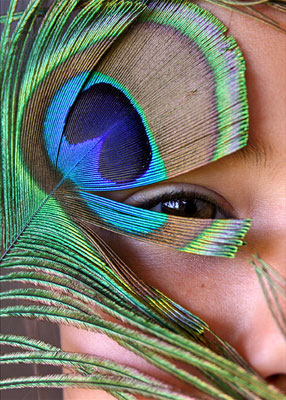 © Rachel P., Wailuku, HI