It was Meant to Be
April 14, 2012
I didn't know what to expect. We all thought I was fine…. but apparently not. Doctor John Sulvik walked out of his office with results that would change my life forever. I held my breath, as my parents look first at the papers. Tears suddenly rush down their faces as fast as the tsunami that struck Japan. I Tiffany Granger have cancer, a cancer that no one has survived.



How do I tell my friends? I told my family to tell no one, I wanted to say my goodbyes myself. I'm going to dinner with my friends tonight and I'll tell them. I'll send a message to my outer family.



I wore skinny jeans and my boyfriend's favorite shirt of mine. I was in the middle of doing my make-up, my hair was already dead straight and neat. When it hit me. My life is most likely to end in three months and my surgery is in three days. Life will never be the same.



My best friend Delia, and her boyfriend Thomas, Brendan and I, sat while waiting for table 25 to finally clear up. I knew I was going to tell them tonight and I know the words I will say.



3 hours past and we finished dinner. It was a perfect time…." Guys I have to tell you something!" They all looked over at me with a O-M-G-what-michigan-tickets-did-she-get-now look.. I looked at Delia and said" I have to get surgery in three days." At the same time they all proclaimed" Why? What's wrong?" I shot my eyes to Brendan and he looked very worried. I grasped his hand, moments later I was in tears. " I have cancer, a cancer that no one has survived. The doctors said I most likely only have three months to live." Brendan grabbed me, tears in his eyes. Delia was crying behind me, laying her head on my back and Thomas trying to comfort her. I looked back at Delia and said " I'm scared!"


Brendan walked me home that night. Every second grasping my hand tighter and tighter. It was silent for a long time untill he said something. "Tiffany?"


" Yes, Brendan." I said quietly.


" I will always be there for you. Through the good times and bad. The smooth and the rough, or just any other time you need someone..... Just look for me ,and I'll be there for you"


I stayed quiet for a moment. Finally I started shedding tears. He wrapped me in his arms. We were just gazing into eachothers eyes for several minutes. When I spoke, " What if something goes wrong? What if I have less than 3 months to live? Why do I have to say goodbye to the people I love? Like you Brendan. We've been dating since 7th grade, saying goodbye to you is like detaching a baby from its pacifier. It doesn't happen!!"


"Tiffany, you have made indents in peoples hearts, most of all mine. You will never leave us. There are no goodbyes, wherever you are, you will always be in my heart."


At that moment there are no words to explain the connection between us. We grew closer in trust and love by some few words he said to me. Our goodbye took at least 20 minutes. He promised me that he would be there in the hospital from the moment I get in to the moment I get out. From that moment on, I felt comfort and I wasn't as scared for the surgery.


The air seemed to be getting hotter and hotter with every step into the hospital. Brendan was holding my hand. It was sweaty, I didn't mind. Why would I ? This could be the last time I get to hold his hand.He was the only one there. Dad was in China and Mom was in a meeting, she wouldn't be arriving till 20 minutes into the surgery. We sat in the waiting room, silent. Every second felt like an hour. A nurse came out and spoke. " Tiffany Granger?" I stood, shaking, Brendan walked me over to the sign that read NO VISITORS BEHIND THIS POINT!



I woke up from the surgery with doctors and nurses surrounding me. They were speaking vibrantly. I couldn't pull out any words, I was still drifting from the gas they gave me. One of the doctors left the room for several minutes and came back with my mom and Brendan. Mom was crying and tears were in Brendan's eyes. I was in pain from the cuts they gave me but now all I could think about was why they were crying. Mom came to my side and gave me a hug. Moaning from pain, I sat up quickly. With a worried face I asked " What's going on???"


When I spoke the doctor's and nurse's left immediately to give me time with my family. Right then I knew I wasn't okay. Brendan spoke " Tiffany, something went wrong." My heart stopped. It felt as though my world was collapsing at my feet. " I don't know what happen. They can't explain. But ummmm...." He grabbed my hand and my mom started bawling her eyes out. She left the room to give us space. " Ummmm.... I need to say goodbye!"


" Your braking up with me. You told me that you'd be with me forever, and never would you leave. But in the hardest time of my life, you're leaving." I couldn't even cry I was too shocked.


" No Tiff. Not like that. Everyone has to say goodbye today. I will be with you forever when I meet you in Paradise.


I knew what he meant now. Before words could escape my mouth, I heard a fast beeping noise. Soon I was panting very fast. Brendan was crying hysterically now and started to scream. " No!!! No!!! Help, I need help!" He grabbed me " Tiffany don't leave me! I need you!! I love you! Please!!!!" A nurse ran in and screamed " Doctor, Doctor she's dying! Help!" My mom ran in next. " Baby, don't leave us!" She was crying, crying too hard. She started hitting the nurse " Help her. My baby needs help!" Seeing that ,the beeping got faster. My mom was evicted from the room. Her sorrow was felt by everyone in the hospital, but it hit me the most. I started crying. The doctor came to my side.

" Hunny you can't cry! That will make your heart rate go up. We need it to go down. Stay calm!"


I couldn't , my eyes were shedding tears 100 mph. Brendan was still there trying to calm me down. By miracle I stopped crying but my heart rate was still high. My last words were to Brendan. I said " Don't cry because I'm leaving, Smile and be happy because we were together. Brendan, I bell is a bell ' til you ring it'. A song is a song' til you sing it'. And love in our hearts, wasn't put there to stay. That's why I'm leaving. Our love for eachother isn't love till we give it away. Never forget me but please don't let me hold you back from a new love. I will love you forever and always and I know you will love me forever and always...." I stumbled and it began to get hard to pronunciate. " I love you Brendan. I'll see you in Paradise." My world went black, I couldn't see or hear anything. But I could feel something. I could feel all the love that was ever given to me. I could feel all the pain that was ever felt for me. I could feel all the sorrowful tears that were ever shed for me. But most of all I felt as though I was where I was meant to be.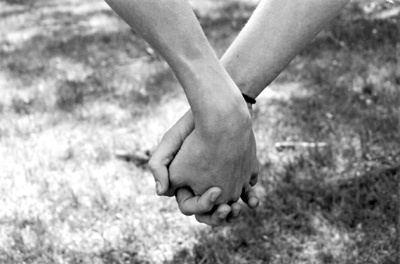 © Alexa T., Pompton Plains, NJ