In Seconds
February 20, 2012
The slam of my locker was a blessing. It was finally the end of the school day and I could gladly spend my free time tonight with my best friend, Anna.

"Hey, stranger," an angelic voice said from behind me. I jumped when she spoke and she giggled. There stood a girl with a huge smile on her face that made me smile in return.

"Oh, hey. You scared me." She shrugged as we walked, pushing open the metal doors to the outside world. I followed, holding the door for the mass of people flowing out of the building after us.

The old school was a comfort but also a burden. What kid really liked school? For me, I just do all the necessary work, and hope it ended sooner than it started.

As we left the old vine covered school, Anna sped ahead of some slow freshmen. I tried to keep up, walking past the oak tree in front of the school.

"Hey, um, where's my iPod?" I held out a hand when we both stopped and Anna rolled her eyes. She dangled my blue iPod nano, about to beg for more time with it. She just liked the games I had, because she had more music than I did.

"You're giving me the look again." I chuckled and she smiled. We waited at the curb to cross the street. By now, it was extremely over crowded with students and cars. Luckily, all of the cars were stopped right before the white line like they were supposed to be.


I halted at the crosswalk sign on the corner of Oak Street and Vine Court. It was just before our little neighborhood in Oakton Estates. Anna was sporting a new summer dress that her parents bought her for her birthday over the summer. Her hair was tied back into a braid from gym class. The golden hair reached all the way down to her lower back since she let it grow out over the summer. Her sparkling blue eyes glanced back to me with eagerness when she pressed the metal button at the intersection.

"It's finally Friday, Justin," she mused to me for the billionth time today. She clutched her books tighter in her arms. I sighed and ran a hand through my brown hair.
I missed what she had said next. Butterflies filled my stomach as her giggles erupted through the clean air.
"Let's go!" The flashing of the walk signal at the median in the street signaled that the cars would stop for us. I followed after her and cars were slowing down. Her braid bounced as we came to the stiff median. I looked to my right to check the traffic but Anna kept going. My heart stopped for a few beats when I saw what was coming.
"Anna! Watch out!" I yelled too late as a swerving bright red Jeep Cherokee came barreling down the road as if looking to hunt someone down. The only person in the street was Anna, who had bent down to pick up her AP United States History book. She was humming along to the Selena Gomez song that was stuck in her head.
"Anna!" I yelled loud enough for her to look up and freeze, unaware until that moment that there was a car headed right towards her. Her blood-curling scream shook my terrified body out of its shell as I watched as the red Jeep Cherokee skidded to a stop, hitting Anna's fragile body. My voice choked on the sob that was forming in my throat. No, this can't be happening.
My eyes were glued to the once happy and beautiful Anna Ruzinski, my best friend, drowning in her own pool of red.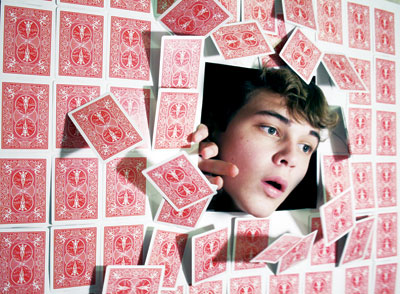 © Mike B., Harrisville, RI