Light and Hope
February 13, 2012
An enormous mountain loomed before me, scraping the heavens with its craggy features, and I slowly stepped forward to begin the ascent up the foreboding cliff. As I climbed, the cuspate peak pierced a hole through the sky, and a single ray of golden light fell to illuminate my path. The light brought to my view a worn, but sturdy-looking branch that the shadows had been hiding from me, and so I was provided with the perfect hiking staff.
With my newfound prize, I vigorously continued to hike up the rocky mountainside. My legs carried me heavenwards, and a great weight was lifted off of the land as the shadows slowly slinked away to nothing.

Finally, I reached the jagged mountain peak, and my blood flowed golden throughout my body at the magnificent view of the lush, green valley, and the meandering river that stretched to the distant horizon, a watery blue road to whatever lay beyond. The rift in the clouds had widened during my ascent, and brilliant streams of golden sunshine flowed down. Through the parting of the heavens, a great eagle soared, its majestic cry echoing in my ears. I followed its spiraling path as it glided, taking the glistening road as far as my eyes could perceive. One last call sang through the bright blue sky, and the eagle pumped its powerful wings, becoming one with the heavens and the earth. The only sign of its breathtaking existence was one last gleam of the sun on its golden wings.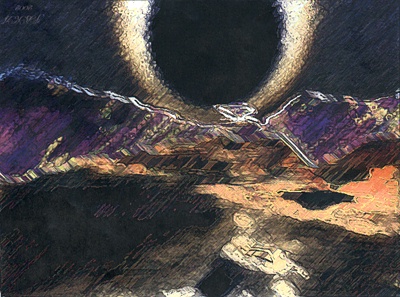 © Jason B., Colorado Springs, CO