That Summer
November 6, 2011
Julia was an average girl in 11th grade. She had good grades, good friends, a nice house and a supportive family that pushed her to do her best. Freshman year went by for her as planned. Her group of friends stayed primarily the same, she made a 3.8 GPA, and her crush, of course, never made his move. But as soon as the weather turned hot and school was over for the year, things quickly changed for her…

July 24th was an average day at Main Beach in East Hampton NY. Julia was there with her 2 friends Meghan and Emma with their usual plans of tanning, drinking iced teas by the water, reading Seventeen, taking pictures and never getting their hair wet or sandy. Julia loved her friends and was used to their "we're girls this is what we're supposed to do" ways. But on that day in particular she really wanted to go for a swim or a run or anything that was active. She never admitted it to them, but she was a little bit more of a tomboy than they were, and she needed a break from Seventeen's beauty tips, and celebrity gossip. "I'm going for a walk" she told them, adding "I'll scope out the hot guys" for good measure. Her friends always had this dream of meeting the perfect guy on the beach, but the 20 plus times they're been there this summer had left them utterly unsuccessful. After about 5 minutes she broke out into a jog and didn't stop until she was a good 25-minute walk back to her friends. By this time she had made it to the next village beach and jumped in the water to cool off. You wouldn't believe it, but out of those 20 plus times Julia and her friends went to the beach this summer this was the first time she had actually gone in the water. She had forgotten how peaceful and therapeutic it was. Julia flipped onto her back and floated out farther into the ocean. When all of a sudden something knocked her down. After being under the water for 5 seconds at most she managed to stand up, no idea what happened. The wind was knocked out of her, but she wiped her eyes, fixed her bikini top and looked next to her to find that she wasn't hit by a wave, she was hit by a surfer who was struggling to stand up next to her. "I'm so sorry!" he said. "I completely didn't see you there. Let me help you." Julia expected him to help her stand up. But instead, her picked her up and carried her back to the beach, placing her on a towel. Despite Julia's slight wheezing while this was taking place, something about the way he swooped in to rescue her, okay hit her and then rescue her, made her smile the entire time.

When she caught her breath and sat up she finally got a look at this surfer. "I'm so sorry. I'm still getting the hang of this surfing thing and when I saw you there I didn't have time to change direction. Are you alright?" She nodded and introduced herself. "Nice to meet you Julia my name's Luke. Are you from around here? I've never seen you before and I'm at this beach 24/7." She told him that she was from New York city and she was out here for the summer. "Awesome. He replied. I know this is kinda weird since we just met and all, but my friend's having a party tonight at his house. Let me take you and make up for the whole me hitting you thing." He said laughing and her face lit up with excitement. She tried to hide her excitement and responded "I'll have to make sure that I can get out of dinner with my friends but I'll probably be able to." And she gave him her number. "Great", he replied "it was really nice to meet you." He helped her up, they hugged and she jogged back to meet her friends. She was overjoyed at her luck. She had met a cute, nice, guy in probably the weirdest way possible and now they were going to hang out. She was already planning outfits. When she got back to her friends after almost an hour she quickly filled them in on the good news.

"Don't wear heels, I think sandals would be better" said Meghan who Julia was video chatting with to plan an outfit. Luke was picking her up in an hour and her hair and makeup was done, but she still hadn't decided on an outfit. He was pretty unclear about the type of party so Julia didn't know what to expect. After a long debate and approval from her best friends she left the house a little, white, summery dress. Luke said they could meet for dinner before the party and then walk there. They went to a little diner down the street from where Julia lived and talked the whole time about school, their friends, past relationships and made plans to go to the movies after Luke got home from soccer camp. They didn't even end up going to the party, because after their long dinner they got ice cream and sat on the beach. Neither of them wanted to leave, so they watched the sun set and snuggled on the beach. After it got really dark, Luke walked her home and hugged her goodbye. He turned around to leave and Julia opened her door, disappointed that she didn't get a goodbye kiss. But in a burst of courage, Luke turned back around, and kissed her.

After she got home, she filled her friends in on everything that happened. After telling her how happy they were, the pulled the typical best friend move and asked to meet his cute friends. She was too happy to care, so she said "why not".

It turns out they had to wait a while though. He went to soccer camp for a week. Julia couldn't wait for their movie date, so she decided not to bring her friends along to that one. After they went to the movies, they hung out a few more times, and each ended with him walking her home and giving her a slightly longer goodbye kiss. Julia was thrilled at the way things were going, but after each date she knew that she was getting closer and closer to the time when she would have to go home to the city and it would be hard for them to see each other. When she only had a week left of Summer Vacation she called him and said that she wanted to talk. He came over and they sat on her porch swing. She told him that she was leaving in a week and she wouldn't be coming out here very much until next summer. Luke knew that this time would come at some point, but somehow he was still caught off guard. "Does that mean that you don't want to see me anymore" He asked. Julia felt bad because he looked upset, but she thought that having a boyfriend who lived so far away would be too difficult. She couldn't drive yet so it would be really hard for them to see each other. "Yeah." She said "That's what I'm saying" He stood up and gave her a goodbye hug. "I enjoyed every minute we spent together. You are beautiful and I hope you find someone at home who deserves you ." And with that he was off.

It turns out that Julia didn't find somebody who deserved her that year. She dated a jerk named Tommy for a month or so, but ended it quickly. After she broke things off with Tommy, she texted Luke to say thank you for being the sweetest guy she's ever met and apologizing for the way their friendship ended. He told her that she made the right decision and that he realized staying together would've been too hard. They became friends again and texted every once in a while. And a year later, when the weather got hot again, she returned to her summerhouse in the Hamptons. It was the summer after he senior year, so she wanted to make it the summer of her life. She knew exactly who to call.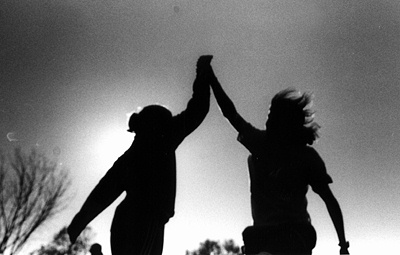 © April P., Marblehead, MA