Against all Odds
January 6, 2012
Eric Wilson the best QB of all time was my dad. I was at one of his many football games. I'm Jonathon Wilson, a freshman about to start my football season at Sunset Canyon High School. I was looked at as the best because of my dad (not like I was complaining about that). My dad throwing another touchdown pass ended the game. Were going to get some pizza like always do after a game at are favorite pizza place Meatza Pizza. We made it there and ordered a meat lover pizza and sat down. While we were eating my dad said "remember if you try hard you can do anything". I said "I know dad". Then we were done so my dad wanted to go home. So we got in the car and listened to are favorite song Sweet Home Alabama. Then out of know where a drunk driver hits us and everything went black. I wake up in the hospital wondering what happened last night. The doctor came in the room and said we need to talk he said "you suffered severe brain trauma your not going to have the ability to do the things you used to." So I can't play football anymore. I don't think so but you never know. I sat there wondering where my dad was. So I decided to ask the doctor were my dad was. It took the doctor a while to tell me the answer. Then he told me "Mr. Wilson was not as fortunate as you he died in the car crash". I did not want to hear it no more; I curled up into ball and cried for the whole day. I woke up the next morning wondering where I will live now. I don't have a mom anymore she divorced my dad when I was a baby. It makes me sad that she only married for the money when I came she left. I always wonder if it was my fault. I stayed in that hospital for a while. I made many friends but my favorite friend was Tyler. He is 13 and he never made fun of me. He had to sit in a wheel chair he was paralyzed. He knew a lot about my dad. He was his biggest fan. We had a lot of fun talking about him that made me feel a lot better. Day after day I was getting better. They said tomorrow I was going to a foster home. I don't want to go; it's going to be a big change. I made a lot of friends here and it will be sad to leave Tyler. We have been through a lot. I woke up next morning and packed my bags and went to say goodbye to my friends. It took me a while to say goodbye to Tyler, but I went on my way. Ms. Smith picked me up at the hospital; she was the owner of the foster home. She is a really nice lady. She smells nice too! When I got to the foster home, I was extremely nervous because I did not know anybody. Ms. Smith was really nice and gave me a journal for me to write in. Then Ms. Smith introduced me to my roommate. He was a nice guy. He is thirteen and his name is Andrew. I told him that I have problems with my speech and motor skills. He said "I don't mind, I think you're a really cool guy". That made me feel good. I ate dinner that night and saw new people. There were probably fifth-teen to twenty other kids. That night for dinner we had macaroni, and I love macaroni. I thanked Ms. Smith for dinner and went upstairs to my room. Then when I walked to my room, there was a group of kids laughing at me. I asked them why they were laughing and they said "We were laughing at you, you sped". I got tears in my eyes and ran to my room. I laid in my bed and cried, "I wasn't rude to them, why were they rude to me". I dozed off thinking of my father.

February 14
Today I decided to try out the new journal that Ms. Smith gave me. I went to Sunset Canyon High School this morning. I have not been there for a month. Then I went straight to the bus stop skipping breakfast so I didn't have to see those rude kids. I made it to the bus stop and waited there until 8:30. While I waited I saw some of my friends waiting for the bus too. Shaun, one of my friends that I knew from science, walked up to me and asked "Where have you been"? I explained how I was hit by a car and suffered severe brain trauma. While I was talking to him he just walked away. Then the bus came and nobody sat by me. I always used to have people sitting by me. When I made it to the school, the principle walked up to me and asked me if I remembered where my classes were. I told her yes. Then I walked to first period. It is science with Mr. Murray. He was one of my favorite teachers. He would make jokes and was very friendly. Today we were learning about negative and positive G-forces. I wish I would have stayed home. In English we are working on an essay about Edger Allen Poe's poem The Black Cat. All I could get out of it was a women dying. School is a lot harder than I can remember. I went through the day struggling to keep up. The only class I had fun in was P.E. I could do most of the things the other kids could. We practiced throwing the football and the coach said I had one of the best throwing arms he has seen in a long time. This was probably because I practiced with my dad a lot. The coach told me" I know it is already football season but I need another Q.B because our Q.B got injured and we are using a backup, you think you can handle it"? I told him I would love that. When I got home I ate dinner. Then I went up to my room. Andrew was their doing his homework and I asked him when he got done he'd like to play football. He said "ok". He finished his homework and we tried some routs. We had a lot of fun and soon it got dark so we went inside. I played some madden with Andrew. After playing three rounds of the video game and always losing I am going to bed right now. Good night.
February 16
Yesterday I did not write in here because I forgot. Anyway I got up this day and got ready for school. Then I ate some breakfast while those rude kids were laughing about something, probably me. I went to my bus and know body sat next to me again. I went through another hard day of school not understanding what the teachers were trying to say; at least I got to go to football practice. I got there and I was not respected like I was before by the other football players like I used to be. I could hear some of the other players say "Why is he here"? I did not let that bother me though. I knew I belonged here. I would throw beautiful spirals, and the rest of the team was impressed. This was the first time I was actually having fun. After practice I went back to the foster home and ate dinner, everybody heard about me being the Q.B for the Sunset Canyon Snakes. Now I am getting treated like I deserve. I know my dad would be proud.
February 19
Instead of me writing everyday I will write when important events happen. This week I was trying to keep up with the other students in school and schoolwork until my first game. We've been practicing so hard so we could beat the Mountain Valley Lions. Today was my first game of the year it was so important for us to win. If we didn't then we would not move on to play offs. First we kicked the ball off so they did not need me until two minutes into the first quarter. When I went in, the Lions were scared. They've heard about me. I threw an easy touchdown pass giving us a six point lead. It's stayed like this for the rest of the game. The final score was thirty five to ten. We won and I felt good with the crowd applauding. Now I know why my dad wanted me to play. It was for this moment and I knew it was all worth it. After the game, we went into the locker room and celebrated. We bought sparkling cider since were not old enough for Champaign. And we all went home. I get to have my weekend now so I can stay up late. I stayed up and played Madden with Andrew and will go to bed at about 1:00 am.

February 26
Today report cards came in I was not happy with my grades. I got three F's, two D's, and one A. The coach had to talk to me about my grades he said I couldn't get any more F's or he will throw me off the team. I can't let that happen I need to be on the team, it's the only fun that I have now a days. So from now on I am going to start to study and learn as much as possible. I can't let my dad down. Andrew said he would not mind helping me out with my homework. He is so smart he skipped a grade. So anyway I can't believe we made it in the play offs. We played a game yesterday against the Spring Wood Tigers. We won thank god but it was close the score was 10 to 14. So now I have the stress of school and football I need some sleep!
March 10
I have kept up my grades right now I have A's and B's. I have been doing my homework every night thanks to Andrew. I actually understand my classes now because I stay after school for some help from the teacher. So the coach says I will be able to play in tomorrow's game. It is going to be awesome if we win tomorrow we will be in the state championships. Wow if are team could win the state championships that would make my dad so proud. So I'm going to need my rest for tomorrows game. I can't wait.
March 11
WE WON! Oh my god we actually won. This is the happiest day of my life. Now we can win the state championship. The final score was 21 to 17 but we almost did not win. It was the 4th quarter with 30 seconds left. The score was 14 to 17 and I threw a 80 yard touchdown pass. After the game we celebrated and they gave me the game winning football. Best day ever I wish my dad could have seen.
March 17
Tomorrows the big game I hope we win are team has been going to practice everyday. We are going against the Thunderbirds. They have only lost one game and last time are team played them we lost. I am so nervous I hope we win we have tried so hard. It would suck if we lose now after all this work. Well I need to get to sleep for tomorrows big game.
March 18
We unfortunately did not win. I am sad but it was not about if we won or lost. It was about the experience I had. I improved my grades thanks to football. I made a lot of friends and I was able to see what friends were nice on the inside. This has been super fun and beside there is always next year. I know that my dad would have been proud of me for coming this far. I am proud of my self to and I can't wait for are victory next year.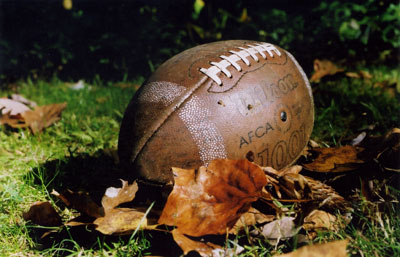 © Michael L., Bethesda, MD