Harsh
October 17, 2011
There's a bobby pin just lying on the floor. It's black - the bobby pin, not the floor. The floor is ugly and mottled in a horrid combination of beige and pink-green-red. I wonder if the bobby pin is mine. Quickly I run my hands through my hair, suspiciously patting my hairstyle, checking for stray strands. Not one. Good. I can't look stupid. I've looked stupid for far too long: (ugly, but I didn't realize that) floral skirts paired with rumpled tops neutral colored, trying to look vintage-chic but instead looking like I got dressed in the dark at a trash dump.

And today is one of those days when I look good and then I get to school and look terrible. I'm wearing nice black jeans and a worn off-the-shoulder sweater. I thought I looked great until I hear Cia tell Hada that I looked stupid.

So now I'm in homeroom, crouching over and trying to cover my shirt with my jacket which, stupidly, doesn't button or zip or close. It's as pointless as when people wear hats and earmuffs at the same time.

There's a bobby pin on the floor, is it mine? Because I hope not. Wait. No. I already checked. I look up. RayLene has a piece of her chemical-blonde hair sticking up at the top of her head. It makes her look like some sort of bug. It looks awful. People will see it and talk about it for the rest of the day. I might give it to her and help her look less stupid, but I don't owe her anything. No one helped me look less awkward. I had to do it myself. So I won't help her. I don't want to be laughed at for helping the girl who looks stupid. I've got my share of teasing already. I don't need more. Just leave it.

Later I see RayLene's friends laughing at her, telling her she looks ridiculous and how could she not notice it or the people laughing at her all day? RayLene laughs too, but it's fake, it's her pretending like she knows she's stupid and that what her friends are saying doesn't hurt her. But I know it does. I've gotten that before. It does hurt.

Society is harsh.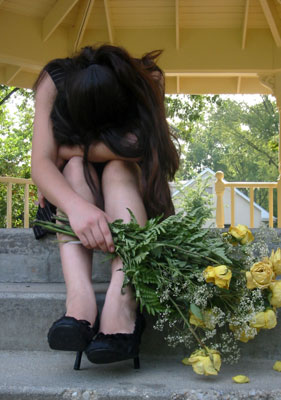 © Martha V., Morton Grove, IL