Bleach
October 9, 2011
She poured the developer followed by the powder into the small bottle, then squeezed the step three into the mix as well. After screwing the cap on she covered the tip with her finger the shook the bottle. She had done this for herself many times before fixing her roots or changing the color of her hair completely, but this was the first time she had ever colored someone else's hair for them.

He was her best friend, and it was state for football as a school tradition. The football players bleached out all of their hair and dyed it some ridiculous color this year was no different.

After taking a deep breath and shaking the bottle one last time she began. His hair was short and the same length all the way around, so this should be easy except for the fact that his hair was the darkest shade of black naturally possible.

His head was covered in the blue colored bleach and she sat across the table laughing at him as he complained at how long it took. "I don't know why it's taking so long, shouldn't it be done by now?"

She shook her head, "Not for at least thirty minutes now let me put this bag on your head." She said grabbing a gallon size freezer bag.

"I don't think so you're gonna kill me putting that on my head." He replied looking at her like she was crazy.

"Noooo," she laughed, "Just on your hair it seals in the heat and moisture so that it bleaches better."

"If you say so," he chuckled lightly.

She pulled the bag gently over his head so it covered all the hair that was getting bleached. She then grabbed the hair dryer and after turning it to its highest heat setting she turned it on and aimed it at his head. He gave her another look asking as if she was crazy.

"Heat helps it go faster," she answered his question before a syllable escaped his mouth.

He laughed and shook his head at her, while she just smiled. It was moments like this that just seemed to be worth it in life.

After his time was up she washed out his hair and burst out laughing at the yellow-ish, orange-ish blonde color of hair that was now on his head.

He looked in the mirror, and joined in the laughing. "This color doesn't work with my skin tone." He said with a serious face. Then they burst out laughing again, and were reminded why they were friends.

"So what color do we have to dye this mess?" she asked him, looking in the bag of hair color.

"I chose pink, because that color does suit my skin tone." He said, she looked at him, then closed her eyes and laughed.

"What a man." She said, using his own phrase at him.

He nodded in agreement, "Exactly," He chuckled.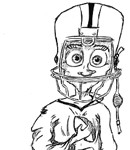 © Steve B., Hull, MA