Through the eyes of a Window
October 9, 2011
The glass pieces lying on the ground. These glass pieces used to be a magnificent window in the attic of a huge house. This window has seen many things in it's lifetime, it has seen the birth of children, it has seen that same child grow to walk on its own and learn how to ride its first bicycle. It has also been the doorway for this teen sneaking out to meet the love of its life. It has seen the wedding reception and the birth of yet another child. It has watched this child grow up and leave the house, while the parents grow old together. It has witnessed the good times and the bad times and has been content with all. It has kept the snow out and the warm in.
As this cycle continues this window grows old and forgotten, gathering dust and dirt in the corners. It starts to see less and less of the children and grandchildren. It forgets how much fun he used to have, watching the kids play and grow up. Now its role is as an antique in the attic. Becoming hard to look through and hard to open, it starts to feel unwanted, unappreciated. With its metal rusting and its screen falling out and ripping.
Then this family moves out, and the house sets empty. With no hope of anyone moving into a house that's old and broken down the window watches the world pass by, with it standing still. The town around it becomes a city and new houses are going up everyday. Parks are built and buildings are towering overhead, and this window has a front row seat to the renovation of its town. It watches the exciting faces of the towns' people as amusement parks and tourist attractions go up. Pretty soon this window becomes a piece of glass on an old house that no one notices.
Finally we come to the end of the windows lifetime as the people decide to tear the house down to make room for the newest addition to the city. It watches as the construction crew sets up shop, bringing in heavy equipment and sludge hammers. It watches as the wrecking ball swings back and forth gaining momentum with every swing. And finally the ball strikes through the window with a loud crash sounding like a child's scream. As the windows glass pieces fly through the air the window remembers its lifetime. A long and joy filled lifetime, and with that the glass pieces become an object in the new world instead of a life in the old world.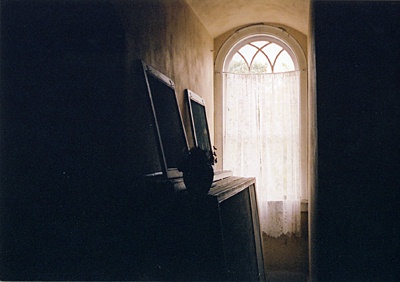 © Kandi B., Vacherie, LA