The Lighthouse
October 16, 2011
Everyday my life is like a challenge that I have to face and somehow conquer. I have to deal with so many different emotions that no child my age should ever have to cope with. So far my life has been filled with so much heart ache and sorrow, that it's hard to keep going and I struggle to accept what's happened. My name is Katy Arteta and this is my story.
When I was 12, my 3 year old little sister Alice Arteta passed away. She got really sick one day and no one knew why. The doctors tried everything they could think off but unfortunately nothing seemed to be working. Until eventually she closed her precious little eye, took in one last final breathe of air and was gone forever. That tore me apart because even though some people say that little sisters are supposed to be super irritating, she wasn't. She was special…..She and I where best friends before she died and now I may never see her again. I say "may" because I know that she's up there in heaven waiting to see me. I just hope that she hasn't forgotten me, you know.
Then if that wasn't enough, my grades weren't all that great, I wasn't making any friends and my parents where constantly fighting over small little things that obviously I wouldn't be able to understand because apparently I wasn't old enough to. Well as you can see my life has been pretty much a mess so far. I felt scared, lost and confused half the time and not knowing what was going to crop up next was absolutely horrifying to me. Just when I thought things would never change something happened that actually gave me some amount of hope.
Today is my 15th birthday and of course no one was paying any attention to me as usual so I thought I'd take a long walk on the beach. Half way through I spotted a lighthouse some distance away. There was a strong wooden bridge leading up to it so I thought I'd explore my surroundings for a bit. When I got there it was like as though there was a special connection between me and this lighthouse. I didn't know what it was but I knew it was something simply grand. I felt at complete peace with the world for the first time. I stayed there until it got dark and even though I didn't want to I knew I had to leave but I've been going back to that lighthouse ever since I found it that day because it's something that makes me feel happy inside. It's a place where I can go and think about my past and my future. It's a place where I can actually hide from all the sadness in my life. It's a place that I can actually call home.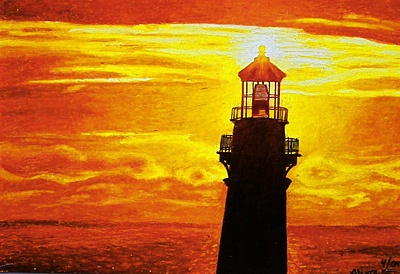 © Alyssa G., Charlotte, NC