What I See
September 24, 2011
When I walk into school, I see many different things. My friend sees a popular, blonde cheerleader in red high heels. She sighs in envy. I gaze at the cheerleader. I see an ordinary girl who is buying a new head at the store. She isn't wearing her own. She has masked her originality with something that is a dime-a-dozen. I sigh in pity.


My friend sees the captain of the football team. He is wearing his jersey, and sitting in a group of jocks and girls. My friend moans in longing. I see a boy who is crowded into a room of mediocrity, while there is an empty room next-door. Nobody enters the empty room. They don't want to be different. I see this boy who isn't willing to let his talent take him into the empty room. I moan in disappointment.


My friend sees a student push a small, gangly, bespectacled, redheaded boy into a locker. She sees a weakling being pushed around, and cringes ruefully for him. I look at the small boy. I know his name is Peter. He is already walking away, used to this kind of treatment. I see him walk right on in to the empty room, leaving behind all signs of averageness. He is the only one in the room, but he doesn't mind. He's willing to risk his reputation in order to be great. I see him step over the line. The line that separates goodness from greatness. He leaves all the others in the dust, and I see him pursue his ideals. I smile triumphantly for him.


My friend sees a girl named Lizzy. Lizzy is garbed in designer clothes, and her anticipated nose job has just recently healed. She gushes about it to a crowd of curious girls. They stand arm-in-arm, accompanying each other everywhere. My friend sees loyalty. She stares in adoration. I see a row of girls built of aluminum. They are shiny and impressive when looked upon from afar, but easily crushed. They need each other for support, or they will collapse. I see a padlock on each girl, but the locks are all broken. I see insecurity. I stare in disbelief.


My friend sees me. I am plain. I am unchanged. I am stubborn and unpopular and brainy. I am not like all her high-school idols. She pats my shoulder apologetically, and lopes off to join Lizzy and the Aluminums. I watch as she chooses a new head, and pretends to identify with it, swapping her remarkable self for the standard uniform of regularity. I watch as she finds herself a solid place in the crowded, ordinary room. She doesn't even go near the line that separates her from me.


I see the line, and easily jump across. I see a door, and I don't even look back as I enter the empty room. But I see it isn't empty anymore. I see Peter, I laugh in relief.


I am not good. I am great.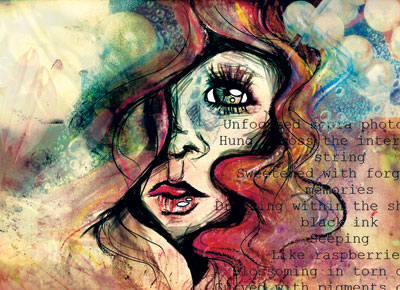 © Victor K., Las Vegas, NV