finding Her ?
August 11, 2011
It took me 4 girl friends to find her. The first girl friend I ever had was during my freshmen year in high school. She was a Junior, a freshmen dating a junior is almost impossible I know, but she was…desperate.
We broke 2 weeks after we got together. She dropped out of school, unfortunately, and I haven't seen her since.
Me and my second girl friend lasted all of 3 weeks, of my sophomore year. She was a romantic type, our first date was at her house sitting on the love seat watching movies, she was also my first serious relationship, and my first kiss, and RMS (random make session), never going to be able to watch Toy Story 3 the same way ever again. She was smart, helped me with a few subjects, and on occasion I helped her on subjects I had no clue about, physics for example. She was also blonde, enough said.

My third girl friend was a rebound thing. She was short brunette, a little crazy. And it only lasted 3 days (shortest relationship ever). We never even so much as held hands, and I kick myself everyday for this because I broke up with her a church, of all places.

My fourth girl friend was more my type, weird like me. She moved her from California, and well I had a crush on her for the longest time, we dated for a week, and eventually saw that we weren't going anywhere so she ended it, and I moved on.

Her?, my current girl friend, I've known her forever, we spent all of our lives together basically. She fit me exactly but I was blind to it. Everyday in school this past year, we would hang out in front of the school after lunch with some of our friends, and they'd say "You two would be cute together." and we would say we didn't like each other like that we considered each other siblings. Meanwhile my best friend, Matthew was dating her older sister, Angie, and they were perfect for each other, and one day he ended it, I nearly kicked his head off when I heard this. Well one day me and him were talking and I told him I had a crush on Her? he said "You finally realize huh? Well what ya going to do?" I told him "If you go back out with Angie, I'll ask her out." Matthew had been going through some rough times, and needed her back, though he wouldn't admit it, and he said ok, so at Angie's sweet 16 he asked her back out, and I asked Her? out. Surprisingly she said yes, after all these months of "I only think of him as a brother", she says yes. And from here the story continues in real time.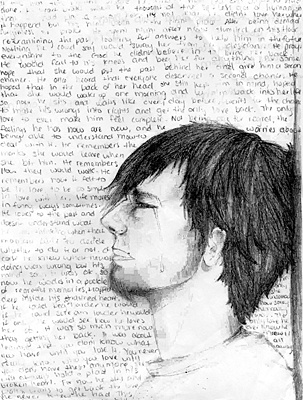 © Annie M., Columbiana, OH