The Gun
May 26, 2011
I didn't realize what he was trying to do until he turned around and I saw it. The gun. My gun. When I looked at him with horror in my eyes, he shot. I fell. I didn't live.


*



*



*



*



*



*





That day, before we had even talked to each other, was like any other day. I woke up, ate breakfast, and got on the Internet.
The Internet: I never knew the dangers of it until it actually happened.

That particular day was my birthday. As I got on my account on Facebook, I saw how many people had posted a happy birthday message on my wall. A total of two. My mother and my sister. I couldn't help but feel a little bit of disappointment.

Right as I was about to log out, another message popped up, this was from a complete and total stranger. It read "Happy Birthday! Hope you have a great one!" I didn't know this person as I said before, but they sent me a friend request and I just kinda figured that they knew me somehow. Not really knowing how to respond to their message, I logged out.

My mom came to my house later that day to celebrate my birthday. It was nothing big. We had a tiny cake and some ice cream. She gave me one present. I was surprised to see that she had given me this, considering she's always so protective of me. It was a gun. I never really liked guns because I would never be able to actually shoot someone. I certainly didn't think I needed one either. I asked my mom why she got me it and she said, "I'm worried about you being alone too much. So, if someone is trying to hurt you, and there's nobody here to help you, kill 'em." I was shocked that my mom had said this, usually she wouldn't be in favor of me killing somebody, but I took it anyway. My mom, being a single parent, was always way too protective of me. My father had walked out on my family when I was little, I've never really met him, and my mom doesn't know of his whereabouts or why he left.

Not really knowing what to do with the gun, I set it on my nightstand. Once again I got on the Internet, hoping that more people would have sent me messages. There was only one. It was from the stranger. It read, "I hope you're having a great birthday! Maybe we could meet at your house to celebrate?" My mom had always wanted me to start dating, considering I was 23, so I responded saying that it was okay for him to come to my house. I figured he didn't need my address because it was already on my profile.

This guy's profile picture looked pretty good, so I wanted to dress up for him. I wore my favorite red dress, hoping that he looked like his picture. He didn't.

When I opened the door for him to come in, he wasn't what I had imagined, he was better, although he did seem about 20 years older than me, but I don't care about age. For some weird reason, he didn't want to show his eyes because he was wearing sunglasses the whole time. Trying to fill an awkward silence when he entered, I asked him if he wanted to celebrate with me, but he said he just wanted to talk to me. Of course I said that was fine, but I was quite confused on why he came all the way here just to talk to me. We sat down at the kitchen table. The first question that he asked in his low, scratchy voice was how I was doing, I said fine. The next question was unexpected. He said, "Are you really Abigail Cramer?" I told him that of course I was. He told me that was a good thing. I told him I was going to fix us something to eat, which he said that he had to use the bathroom, so I showed him where it was.

As I was making us dinner, he must have been doing something other than going to the bathroom because I heard some rustling. I yelled up to see if everything was okay. He didn't answer, so I went upstairs to see what was going on. He was in my room. The whole place looked ransacked. As I asked him what he was doing, he spun around with a vacant look in his eye.

I didn't realize what he was trying to do until he turned around and I saw it. The gun. My gun. When I looked at him with horror in my eyes, he shot. I fell. I didn't live.

They didn't catch my killer until three years later. They found him at the border of Mexico. Little did anyone know that that man was my father.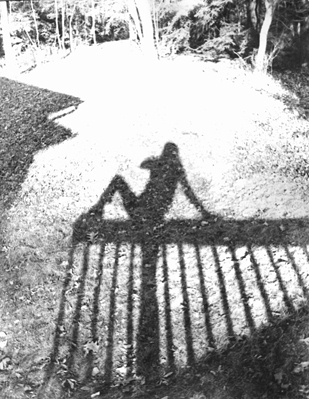 © Catlin W., Cogan Station, PA