Just say it.
May 23, 2011
"You need to learn to say no.", my best friend tells me. She's right, I do. But I've always said yes, to everything. Always. We're sitting in her room when her little sister walks in. "Will you help me with my homework assignment?" she looks at her big sister who just nods her off. She then looks at me with those big hopeful eyes and I just can't bring myself to say no. My best friend rolls her eyes. She knows what's coming, she knows me too well.

Two hours later I'm walking back home when I see a homeless man holding a 'help me' sign. Without thinking, I toss a coin into the cup he's holding. My house is just five minutes away and I spend those five minutes thinking about what I really need to learn to do- to just say no.

I'm in school. Here, I'm the good girl. The girl who's fun to be around but the girl who always obeys. The girl who will always help you out, the girl who never says no.

Is there a problem with that? Heck, is there a problem with me? It's not a problem, right? I'm sweet. I'm nice. Right? But, sometimes, I ask myself- Why do it do it when I don't want to? Why does my heart say yes when my mind says no?

It's lunch period. My friends ask me if I want to catch the new Brad Pitt movie. I don't. I hate Brad Pitt. That's weird, I know, but I do. I don't want to go but then I see their hopeful faces and how can I refuse?

After the movie-which I don't like, we decide to go to Taco Bell. I don't want to go to Taco Bell. I'm hungry and I don't want to eat something I don't like. I've been working on college applications all morning and now I'm hungry-and tired. I didn't like the movie either. Should I say something? More importantly, can I say something?

But I don't like tacos.

The word is on my mouth but it just isn't coming out. I think someone is talking to me, asking me something, but I'm somewhere else entirely. It seems as if this time, my mind has won. It's becoming adamant. This is a weird feeling, my mind is never adamant. Then, the words are out before I can stop them.

I say what I've wanted to, this whole time. What I've been trying to learn. What I have finally, learned- I say no.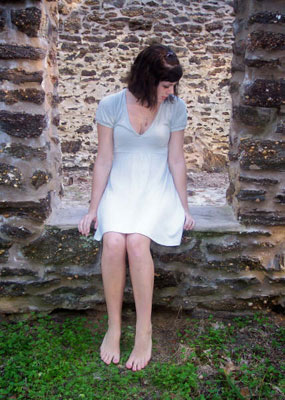 © Katie S., Vineland, NJ