L I FE
April 30, 2011
Some see life as a gift; others wish they had never lived it. It should not be hated, it should be cherished. God gave us the chance to live our lives the way we want, to have fun, to enjoy it. Some people take advantage of that privilege. They don't understand that they only have one chance at life. It is not like a video game where you have three tries. The difference between a video game and real life is that you can restart if you don't achieve the level in which you were playing, were as in real life if you make one mistake, you're dead.
Life is based on nature. Nature is life's map, its directions. We would be lost without it. Think of the world as a tree, every leaf represents a human being. The first leaves that fall are those who die straight from birth. They could have suffered a heart problem, not of been able to breathe etc. The next couple of leaves that fall are children who die from an accident. Car accident, cancer, some kids are even forced to work in factories at a very young age. Children should not be treated that way, they should all be treated equally. The people forcing them to do so are taking away their opportunity to live, taking away their freedom. They have a right to do as they wish, to live the way they want to live.
Leaves that get torn off the tree represent kids being bullied or tortured. A lot of kids want to commit suicide because of the hell bullies have put them through. A kid hung himself on a hook in the boys change room because the bullies were so irritating and discourteous. Another life wasted, taking a leaf off a tree is like taking away the life of a human being. Both uncaring and pointless.
Everybody grows up at their own pace. Some people like to take it slow, others like to rush. Life is like a race; everyone is fighting till the end, but why sprint all the way? Don't tire yourself out before you reach the end. Stop and take a look at what's around you. Going slow gives you a chance to see the invisible, explore the unseen. There are so many things to see out there that nobody has ever discovered. Why don't you be the first? Some people like to sit and watch the world being explored while others like to explore it.
Everybody has their ups and downs, we all make mistakes. Like you've probably heard before, we learn from our mistakes. That expression is true, we all do things that we regret. We all have that feeling of shame, that feeling where you wish you could do it all over again. Sadly, we never have the chance to restart. A life spent making mistakes is not only more honourable but more useful than a life spent doing nothing. Your life must go on, when you make a mistake, just like on an essay or a math test, you erase it. You get up, shake it off, and try again. The best way to forget is to never look back. Our eyes are placed in front because it is more important to look forward than to look back.
The fall season has almost passed through, but like telling a story or reading a book, there's always one last "bang" at the end. Nature is the same, there's always a storm of some kind that decides when fall becomes spring, spring becomes summer, and when summer becomes winter. Usually between fall and spring, there's a rain/wind storm. This is when the wind blows off all the leaves that are left. All of the humans who die from old age, it's their time to give up. As some say, game over. Hopefully most die proud and happy about the way they chose to live. Some people are livid that they didn't get to do it differently. They've shared their stories with other to tell their children so that they can be remembered for centuries.
We're all so excited when spring comes around. Do you know why? Not only is it because of the hot weather or getting out of school, spring represents a new life. The leaves are growing back to the tips of the branches. They represent the start to a new beginning. All of our mistakes are put aside giving others the chance to make their own. All of the newborns getting a chance at life, being able to discover new things, exploring new places, but never forgetting those who lived among them.
Life would be lost without nature. It gives something to guide us through it. We all make mistakes that we regret, but that's the beauty of life: the only way we'll learn how and how not to act. Always give others a chance to live knowing that we only have one chance. Get it right, do what YOU want to do, grow up at your own pace. Don't be the first to finish the race. Some people walk through life, others like to run. Never think of what you don't have, be thankful for what you do have.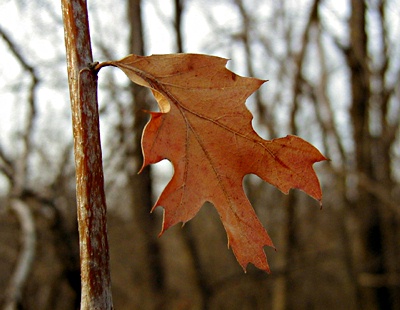 © Brad H., Lemont, IL