Innocent Beauty
April 16, 2011
I remember that when I was a little girl, I used to play in the grass. I would smell it, touch it, taste it; I would rip it out and throw it into the air and watch as it fell back onto me. I would come in from outside with grass stained knees, and chunks of it in my hair. Light green pieces of straw, so combined with my black locks, it would look as if the grass too was a part of me.

My mom would always look at me when I walked in, tracking dirt on her freshly swept floor. I still remember the crack in the light blue linoleum. I even remember playing with the ants that lived there. Her eyes would shoot to my hair, and then my knees. She would suck in her breathe and hold it for a few seconds before closing her eyes. Then she would sigh, and age ten years in three seconds, grab our broom and begin sweeping.

I would sit at the kitchen table while she swept. I remember pushing myself up onto the chair, as it creaked under my small body. I would sit there, swinging my legs back and forth, staring at my dirty socks. I would wonder why I didn't have the pink frills around my ankles like the girls on TV did. Mine were plain white, and overused. They were covered in brown on the bottom, and every time I would throw one leg into the air, dirt would fall from my foot, and hit the floor, making no noise; only mess. My mom would look at me and the dirt on the floor, falling from my soiled socks and shake her head. Then she would sigh, and smile as she started sweeping beneath me.

"Mommy, why do you sweep all the dirt up?" I would ask.

"So that we can see the pretty blue floor." She would always reply.

And I would look at the floor, and I would see prettiness. Even though it was stained, covered in dirt, and had tiny cracks here and there, and not really pretty at all.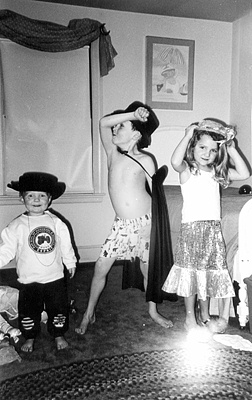 © Courtney M.,Marblehead, MA