Banked Fury
February 25, 2011
Fury was banked inside her. She could feel it, could feel the way it thickened her blood, clogged her emotional pores and made it hard for her to breathe. Why was it always hard for her to breathe?

She sucked air into her lungs, slowly let it out her nose. Her stomach was still tight, still hurting. How could she make such a pain that began on the inside fade away?

Maybe it never would. She thought the words in a high keening cry of distress. Then her shoulders relaxed, her back straightened as she lifted her head. She thought the words again, this time so calmly it was almost emotionless. What difference did it make, after all? She'd already tried making differences. It had gotten her nowhere.

"Jessalyn." Her foster mother's voice stirred her out of her qualm. Jessalyn looked up, met her unfailingly arrogant gaze. "We're leaving. Let's go."

Slowly, seethingly, Jessalyn rose to her feet. But she wasn't following her foster mother. She'd already decided that.

She waited until the door closed. Then she turned on her heel, lifted the knapsack she'd hidden beneath the couch cushions, slung it over her shoulder and slipped out the backdoor.

Codi was waiting for her. The sleek black motorcycle he sat on was growling, a symbol of Jessalyn's inner turmoil and lust to finally be free.

And so, at sixteen, Jessalyn swung an already long, generously curved leg over the motorcycle, locked her arms around a man four years older than her that she'd only known for two weeks, and drove off. She didn't look back.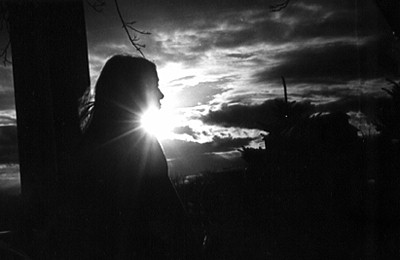 © Elizabeth G., Marblehead, MA