I Didn't Cheat!
March 1, 2011
Wednesday, mid-afternoon, James asked me why Candace and Rachel always acted like I had cheated on him. I said "I have no idea, Baby, I don't even notice it, but I will text Candace and ask her."

I was driving to Lost Cedars to pick up some shirts. I had already texted Candace asking why she and Rachel always act like I have cheated on James. Twenty minutes later I got a text message saying "Because you have." That is when everything went downhill. That whole day she was accusing me that I had cheated on James, and I swear to God I haven't. Later that night I went to see James on break to show him all of the text messages she sent me. After he saw them he started bawling… crying, because he couldn't believe if it was true or not. So I started crying my eyes out telling him I have never cheated on him, and that we have been dating for a year and three months and he should believe me.

He grabbed my phone and called Candace. He asked her if I have cheated on him, and of course she said "Yes, she has James, with two guys at a party." I heard her say that and I started crying even more than I was. None of what she was saying was true at all! Then Melissa got on the phone and said "She was drunk too. She went to the party with us and then I saw her going to a room with two guys." James couldn't believe what he was hearing so he asked for Allison to get on the phone. James said to her "Allison you're like a sister to me, please tell me the truth!" But of course she said "James, she has cheated on you, it was the night she brought me to Jake's." James asked each one of them if they swore to God they were telling the truth. Allison said "I don't do that". All the others said the same thing. But James told Melissa that she swore to God the other day. He caught her in a lie. So Candace got on the phone and said "Her cheating on you with two guys was a lie, but she did cheat on you."



James had to go back to work. I went home crying to my dad. He asked what all happened so I told him. When I got done telling him he said "James shouldn't believe those girls, they're just bored with their lives." The next morning I got a text message from James saying "Baby, I believe you 100%. We will get through this. We are not sitting with them anymore at lunch, were also not friends with them. But baby, I love you with all of my heart and I do believe you. We will get through this sweetie. I love you."
So weeks and months went by and now they are trying to make little conversations every now and then. I saw Melissa's mom recently and she talked to me. She said "what the girls did to you was wrong, I told them they lost a good friend, I'm sorry for what they did to you."Now still to this day were all not friends. James and I are still together and stronger than ever. I'm not taking them back as friends until they come up to me and say they're sorry. They are just a couple of backstabbers and who needs that???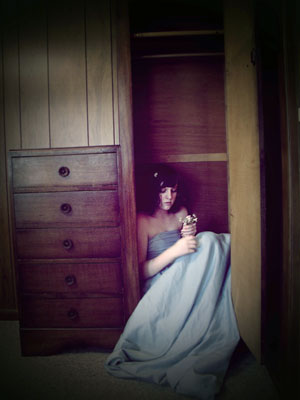 © London W., North Little Rock, AR