Linda
February 27, 2011
The mid-morning sun shone on Linda's face, making her gasp in horror from waking up after another terrible nightmare. A puddle of sweat soaked her sheets, and her body was shaking furiously. After realizing that it was just a dream, she rose from bed, cursing at the sun for blinding her.
"Linda! Don't make me wait any longer! You're going to be late for school!" cried her father.
"One minute, Dad!" Linda shouted back as she proceeded to get dressed. Tying her long, brown hair and pulling on sweatpants, she looked quite normal. You wouldn't look twice at her.
"LINDA! FOR THE LAST TIME, GET READY AND GET DOWN HERE!" screamed her dad, his fury obvious.
"I'm almost ready!" Linda retorted angrily. She put the finishing touches of foundation on her black eye and ran downstairs.
Her dad, Munro, started at once."What took you so long? Now you're going to be tardy and I'll be interrupted at work again!"
"I'm sorry." Linda said curtly.
"You should be. Now eat this and get in the car." her dad replied while handing her a granola bar. He then grabbed Linda's arm roughly and brought her to the door of the car.
"Get inside." Linda's dad said.
Without a word of protest, Linda opened the door and joined her father in the car. In her mind, however, she was troubled. What if the make-up wasn't enough? Would people ask her how she got the black eye? What would happen if the school found out?
But before she had more time to worry, her dad had pulled up to the front of the school. She hopped out quickly, her heart filled with dread.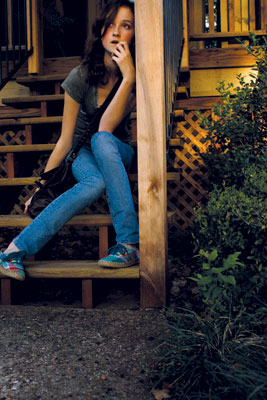 © Alissa H., Double Oak, TX