Princeton Dream
February 12, 2011
Kathy was at her wit's end. She had prayed and mom had told her to be patient, but for goodness' sake, the deadline was tomorrow! If she didn't pay the fees by tomorrow, she could forget about Princeton for a year. A whole year! As she shut down her laptop, she asked herself again why it had to be now that grandma had to have appendicitis surgery and why Andrea, mom's younger sister had to have cancer. Because there was no money left to send her to school. Mom's hair dressing job couldn't buy her a ticket; talk more of paying the fees.
Mom had encouraged her to apply for the scholarship. She'd done that and even written the exam but with geniuses like Diana Riley and Kristen Baxter also applying, she wasn't surprised that she didn't get a reply. Kathy wanted to scream in frustration but she held herself. Sixteen year olds didn't scream, they thought fast and got into action. At least that was what Karen, her friend had told her. Just as she was about to get into thinking mode, her cell phone rang and she flipped it open. It was Karen.

"Hello, Karen…"

"Hi, Kathy. Are you still coming for the party? I have shifted the time. It starts by nine pm"

"Nine pm? When does it end, Karen?" Kathy asked in shock. She'd never been to a night party before.

"Don't be silly. You're sixteen, Kathy. Get a life!" Karen said.

"Gee, thanks." Was all Kathy said.

"Okay, sorry for yelling at you. But, please come. It's my birthday, you know." Karen's voice softened immediately.
Kathy wanted to say no. her parents would never allow her to go for a party at night. But mom was at San Francisco with her sick sister and dad was at a prayer vigil and would he back by 2 am. Perfect. She could go and come back before he did. What could it hurt? She told herself.

"Yes, I'll be coming." She told Karen before she could change her mind.

At the party, Kathy felt out of place. It wasn't her kind of party. There were alcoholic drinks everywhere and cigarette smoke billowed in the air. She felt sick and decided to go home after half an hour. She felt sad about her Princeton dream. As she left the party, she heard someone call her name. She turned. It was Cody Matthews, coolest boy in her high school, or so Karen said. His dad owned the biggest hotel in town.

"Hello, Kathy. Going home already?" he asked her.

"Yeah, I have a lot of stuff on my mind. I can't stand the party anyway." She told him.

"A lot on your mind? Like what?" he asked. She hesitated. Should she tell him? Anyway, it'll be out in a week when her other friends would be leaving for college. She had nothing to lose. She told him about her dashed dreams of going to Princeton this year.
"Oh, why don't we go for a drive around? We'll think of something." Cody suggested. Kathy shrugged and headed for his shiny black Kia Cerato car. He followed her and got in with her.
"You know, I've been noticing you for some time now; but you were kind of unreachable." He said after a quite while of driving. His right hand left the wheel and touched her left hand. "Let me take you home with me." Kathy froze. It was then she heard all the warning bells go off in her head. She was scared and she knew she should get out of the car fast because he was suggesting the unthinkable. She was still a virgin and this wasn't exactly how she wanted to lose that status.
"I could give you the fees for the first year. In cash. I know how badly you need it. Don't you think it's a fair deal?" he was saying. "Tell your parents it's a loan."
Kathy thought about it. At that moment, it made some sense to her. It was only one night, wasn't it? She looked at him and considered staying home for one miserable year. Her expression said it all and Cody smiled.
"Deal?" he asked
"Deal."she replied. All for Princeton, she thought.
Thirthy minutes later, a shamefaced Kathy hurriedly dressed up while in tears. She felt so stupid. She couldn't believe she'd done it. All for Princeton?

"c'mon girl. Take the money and leave. No need to turn on the waterworks." Cody laughed as he handed her a stack of bank notes.
Kathy, with shaking hands took it, put it in her purse and ran all the way home. With a pounding heart, she let herself into the house. She couldn't sleep. She wept all night.
In the morning, her eyes were red and puffy from crying. She decided to have a bath before breakfast. As she scrubbed herself, she felt she could never be completely clean again.
As she dressed up, she heard a knock on her door. It was mom. She opened the door. "Kathy dear, I just got back and saw this in the mail. You needn't have cried all night. Look at this!" she smiled and gave her a letter.
It was the scholarship reply. She was on scholarship to Princeton. Free.
Kathy's hands started shaking. Her eyes teared up and she dropped the letter. So, she'd wasted herself for something she didn't need. Why, oh, why didn't she wait? Why didn't she wait a little longer? The tears started running down her face.
Her mom was stunned.
"Are you okay, Kathy? What's wrong? Tell me, baby." She coaxed. She couldn't for the life of her figure out why Kathy was crying. But the tears kept pouring until Kathy's body was quaking with regretful sobs.
"How could I have been so stupid?" she asked herself. "So impatient?" Why didn't I wait a little longer?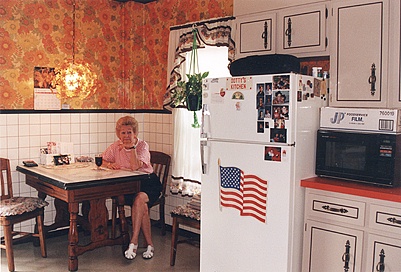 © Sophie K., Cambridge, MA