Two Hearts No Love
February 7, 2011
Sitting in the corner she weeps. The plain walls enclose her in. The rain drops hit the window as her tears hit the floor. No breathing. Just sobs. The edges of her gray shirt were damp with the tears from her eyes. Her single diamond earring limps downward. Her shoulders break down with the agony of her life. Her fingers were entangled between her messy locks. Her face was hidden with the mascara from her eyelashes. What-used-to-be gorgeous blues eyes faded to a dull gray. Emotions filled the room. He walked in.

The spaces between them shorten. As he walked, puddles of water followed behind him. Step, drip… step, drip…step, drip. Their tears compile. His shirt was damp from the rain. His broad shoulders were weak with the pain of his heart. His hair was a mess of blonde going in all different directions. His eyes were filled with sadness to match those of hers. One single tear ran down his pale face. He held out his hand towards her. She rejected. The sadness that once filled his face was gone. All that was left was surprise. She turns her head and he turns his.

He turns his back and that's all she can see through her teary eyes. Step, drip… step, drip… step, drip. He stops and turns back to her. Their eyes lock. Sadness and tears are shared between their eyes. He ran to her and knelt on his knees, begging, pleading. Her eyes said it all. He turned his back once again. While he started to walk away for the last time, he held his fist close. He stopped and opened his fist towards the ground. Out fell his heart. It hit the ground and rolled in a circle. Stop. His gold wedding band sat there on the ground. Waiting there, haunting her. With that he was gone. Forever gone.

Her hand reaches up for a hand but no one was there. Her hand searches for something but nothing. Her once strong arm fell to the floor limply. Her eyes meet the ring on the floor near her, still mocking her. She threw her hands up and cried. Her phone lights up but her sobs drowned the ring. Her eyes meet the contact of the phone, "family." Her hand ran over the screen. Ignore. Her back against the wall now she held her hands together. Her eyes follow the driveway. The driveway that he left on. She scans the yard of which they held there annual barbecue on. She saw the rocking chairs where they would sit and have their morning coffee together. Rock and rock and rock, endless chatter came from their mouths. Nothing but love and happiness filled their eyes. With a sudden jolt, the rocking chair tips over following the movement of the wind. She lets out a scream. She stretches out her fingers and tears out her heart. Her arm reached back and flung forward while her hand opened wide. Drop. Around and around, Stop. Two wedding bands lie on the floor next to each other. Two hearts but no love.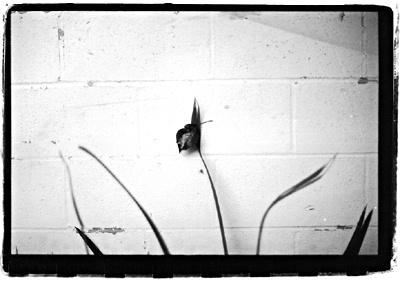 © Rebecca W., W. Hollywood, CA