They Stopped
January 17, 2011
They're at it again. Sometimes, he wondered if they did it just to bother him. They would scream and yell and bicker and he often wanted to run away and hide. He missed the days when it was quiet and calm, with no bickering yelling.

He tried desperately to sleep, but came to no avail. He hadn't slept in so long, he began to sincerely believe it was their fighting, and not that 'insomnia' thing his doctor called it, that caged him in his state of alertness. The bags under his eyes had begun to look permanent, as if they had been etched in his face, or had been there forever.

For such a young boy, he shouldn't have to go through this. His friends and peers at school had begun to notice the change in him. Even his teacher had confronted him, asking about his home life. He tried to reply as honestly as he could without revealing too much (no need to draw attention to himself). She still questions him sometimes.

On this particular night, though, he had had enough. He did his best to gather up all of the courage he could muster and silently hopped out of his bed, walked through the door and into the living room. His mother stood there, looking so close to a breaking point that he regretted coming out. His dad sat on the edge of the couch, leaning down with his head in his hands, looking flustered with frustration.

"Please." He croaked. He had intended for his voice to sound confident and demanding, like he held all of the power, but it didn't turn out so well. "Stop. For Me. Please." His mother turned to look at him. His father lifted his head to gaze at his son.

The young boy tried desperately to show them how much their arguments had affected him with is eyes. His mother seemed to understand, as she quickly ran over and embraced him, reassuring him they would. His dad just continued to look at him, as though he was trying to understand something.

His mother then rushed him into his room, where she tucked him in for a second time that night. When she left, she made a point of leaving the door cracked open. He could only hope they would listen to him and remain quiet.

He waited. He listened.

Nothing.

He heard no noise come from them. For the first time in months, he would be able to sleep in the peace and quiet he had longed for.



The next morning he awoke refreshed and energized. He has gotten plenty of sleep and was quite excited at that fact.

He emerged from his bedroom and into the kitchen, dressed and ready for the day, only to come face to face with a suitcase. It was a large one – brown with two pockets on the front. It was stuffed, full with what he could only guess to be clothes.

He wasn't sure how long he stood there, staring at the suitcase. Eventually his mother walked in and hurriedly ushered him away from the suitcase and into the living room. She began to explain how 'things were going to be different from now on' and what was happening, but he was only vaguely listening. He picture of the suitcase remained on the forefront of his mind.

His mother left the room after their discussion, and he soon saw his dad walk in, dressed in a coat with another suitcase in his hands. He set it down and approached his son.

The boy backed away, initially, thinking that if he ran, maybe he could avoid this awful encounter that was to follow. He just wanted thing to be as they had been before.

His father continued walking and when he reached his son, he lowered himself so that was at eye level with him. He pulled him into a tight hug, whispering promises of seeing him soon.

"Why?" the curious boy asked. He didn't understand what went on with his parents that would result in this.

"Because we can't do this to you anymore. It needed to stop," his father explained, cooly. The boy sat there, staring at him with unshed tears in his eyes.

"Alright," he said after a minute. "If you have to." As much as he hated to see them part, the child knew that it would turn out alright. He doesn't want to accept it, but he does. Deep down, he knew that his parents needed to do this and that they couldn't without his permission.

His father nodded politely and whispered a thank you. With a last hug and kiss, he dropped a card of information on the counter, grabbed his suitcases and walked out the door.

At the sound of the door closing, his mom came back into the room. The boy finally released his tears and turned to his mother for a hug.


The couple had finally stopped fighting, but not in the way their son had hoped for. Not even close.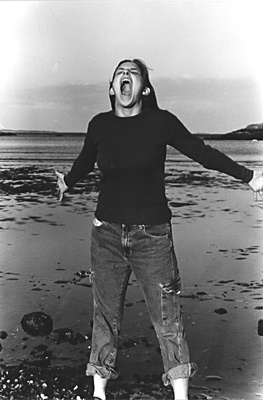 © Jessica M., Marblehead, MA