I Remain Silent
December 28, 2010
She was laying in the grass, arms under her head, when the words came. They spilled out of the dark, the perfect cupid's bow of her lips breaking as they fell around me. "Do you ever feel lonely? You know, right in the middle of the day? When the house is dark and no one's home and it feels like midnight even though it's a little past high noon?"

I looked at her the look on her face one I'd never seen there before. Those almond eyes, that lively mouth, were incredibly blank. For a split second, I thought to wonder about what was going on in her head, and then I mentally slapped myself. I really didn't want to know. Her mind was far to complicated for me to survive.

I lay beside her, thinking this and came to a sudden, blinding realization as she stared up at the stars and allowed me to pretend her apostrophe was not addressed to the sky; the darkness held her. It accepted her with an ease that I, having worked my life away for, had yet to fully obtain.

She didn't have to wait for me, she never really did, all this going through my ordered mind at a lightening like pace, and she wouldn't have, because she was not, for once, speaking to me.

Her words fell out of the dark as she continued. "Have you ever just…just crashed? Into a solid wall of nothing? Pure, and indefinable nothing?"

Her voice was edged in manic excitement and desperation like a knife was edged in pain, the blankness of her usually animated face lying to me as her voice told me an undeniable truth I was sure she didn't mean to tell me.

She had begun though, and like a speeding train, there was no force known to God or man that could stop her without a mess of pain that I sensed would tear us apart. No matter her complexity, or her ever changing tides, I was loathe to put between us any distance that fate could use to tear her from me, and for that purpose, I remained, as ever, silent.

I met Kaylen James in fifth grade, and ours is a friendship you will never read of in books, nor will you find its like in movies. I suppose the closest you may come is found in a book called, How to Say Goodbye in Robot by Natalie Staniford between Bea and Jonah. I am not Jonah; Kaylen is not Bea. Not by a long shot. I am too substantial.

That is what Kaylen says. I am too there for most people. I am the very essence of myself, she says, and that freaks people out. Kaylen…She is a butterfly made out of sunshine, rainbows, glitter and stars. Beneath all that if you can see beyond the brightness of her wings, is a darkness.

Most people think of darkness as a monster thing. They attach to it cold and aloneness. They make it sinister and suppressive. However.

Darkness is not sinister, it is not suppressive, it is not cold, and it is not aloneness.
Not with her.

Kaylen's darkness is the only thing that keeps her solid. It makes her like me- more solid than other people, more substantial, more there.

Next to her and me, I have been told, others are pale, flimsy, and wraith like. Our similarities as others see us, end there.

Where Kaylen is the light, the music, the bird in flight, I am the shadow, the silence, the all consuming flame. At least, that's what she says.

I, am infinitely more practical.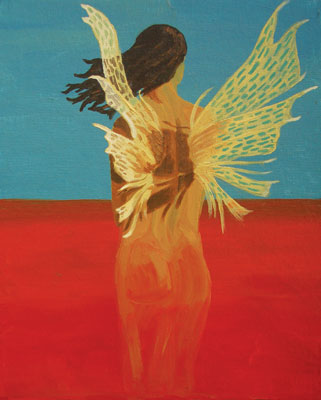 © Allison F., Langhorne, PA