The Cost of a Kiss
December 27, 2010
"Three dollars," I say as she approaches, and for a moment her eyes widen, like I've caught her by surprise. But that's impossible, because she knew what she was doing as soon as she saw me from thirty feet away. She glances back at the little huddle of her friends, who stand a short way away, giggling. The closer she gets, the easier it is to see her shallow, makeup-dusted eyes; mirrors tossed in a puddle to reflect the light and make it seem like there's actually some depth. I give her a small, false smile for reassurance, and finally she steps up with confidence. She hands over the cash, and I tilt my head down towards her face.

Nine out of ten times, the phony, innocent-girl façade these girls wear can be tasted in the saccharine flavor of their lip gloss. In the other cases, all I can taste is desperation. I'm not sure which is better; both are mildly repellent.

With each kiss, I question why I agreed to this. This is insanity it its most refined form. Then I remember Marissa's offer as she bounced up to me in the hallway a few days previously, her pink hair tangled, her purple lipstick framing the golden words.

"I have a way for you to make some money," she chirped in my ear before launching into her explanation of how she talked the principal into having a fundraising carnival for the school. When people first meet Marissa, they automatically question how she became our student council president with her gothic style and wild hair colors. Those are the people who don't understand just how easy it is for her to convince anyone to do absolutely anything. It's one of the great mysteries of the world, this girl's charm. I don't try to fathom it.

"Technically," she whispered, leaning closer, "we're not even supposed to have a Kissing Booth. But I said it would be a real money-spinner, and I put your name up for it, since of course you're adorable, and I figured you'd want the cash. I said we could charge a dollar. Charge three instead and you can keep the extra."

It sounded so ridiculous that I almost walked away on the spot. But… I did need the money. Even a few dollars would help, and making two bucks a girl was a good deal. So I nodded as I turned, leaving Marissa with a satisfied smile. Sometimes I think that the only reason she's my friend is because she talked me into it, just like she persuades everybody else.

The girl pulls away, bites her lip as she smiles, and then goes back to her friends who all rush forward in turn. For them, it costs three dollars. For me, it costs my whole Saturday, my dignity, and any respect I might have had left for the girls at my school. These small-minded females who find more value in their brand of clothes than in doing some good in the world make me lose my faith in humanity. Although it's not like I had much faith to begin with.

When the carnival finally ends, I watch as some of the last girls I kissed stop on their way to the parking lot to help Marissa take down the ring toss booth that she was managing. It makes me wonder if maybe I judged them a little too harshly. Maybe some of these superficial girls aren't as one-dimensional as I assumed. It's definitely a new idea, one that will probably fade as soon as I come back to school on Monday and find a handful of them near my locker, reapplying the eyeliner they put on only an hour before and comparing new haircuts and earrings.

The lights are off when I get home. I doubt they ever came on after I left in the morning. My mother is still passed out on the couch, the empty bottles littering the table from her Friday night binge. The whole house is rank with the bitter, burning smell of spilled alcohol. Suddenly, I find myself missing the fragrance of vanilla lip gloss and flowery perfume. I toss a handful of bills on the table. My mother will be hungry when she wakes up, and I know the refrigerator is as empty as always.

I take the rest of the money and hide it with the rest that I've saved under my bed. A couple dozen more three-dollar kisses and I might have had enough to get out of this place.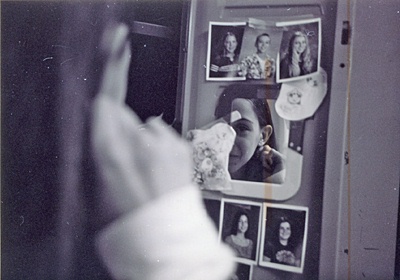 © Kaleigh W., Pompton Plains, NJ