A Stronger Person
December 8, 2010
I am standing in front of the closed doors of the room where I know my father sits. I might as well call him an executioner since I know he is about to bite my head off. I'm taking deep breathes- I don't want to go inside the room, but I know I have to. I'm just standing here, wishing time would go faster. My blood is cold. My hand shakes as I reach for the door knob to enter the cursed room, because I know how the next five minutes will go. I don't have any idea as to why I am so scared. I have gone through this before. I will stand in the center of the room and wait until my father turns towards me and "tells" me what I have done wrong. That could be anything. The REASON for my wrong-doing, however, is where this little "chat" will lead to. And the reasons are always the same.
I don't have self-esteem. I am scared of judgments and criticisms. I am scared of being yelled at. The executioner doesn't know why I am scared of being yelled at. It is stupid to be scared of being yelled at. I have to stop being timid. I have to stop crying whenever someone is trying to have a "serious conversation" with me. Obviously, the executioner doesn't know the difference between "teary eyed" and "crying". He obviously doesn't know the difference between "serious conversation" and "screaming your lungs out", either. I need to stop thinking I am what I am not. Be a stronger person, because I am not strong. Ha! What does the executioner know?
I am strong enough to take everything he says with a grain of salt! I have grown strong enough not to laugh at him as he says nothing with powerful words! He says he knows me and the way I act. He knows I am weak. He knows nothing. He needs to learn of how strong I have become. He needs to find out that I am the strongest I will ever be. I shall prove it in this very room! I then opened the door with warm blood and a stable hand. I passed the dresser and bed and stood in the center of the room with newly found confidence. Let him release all the devils he has locked up. I'm ready for them.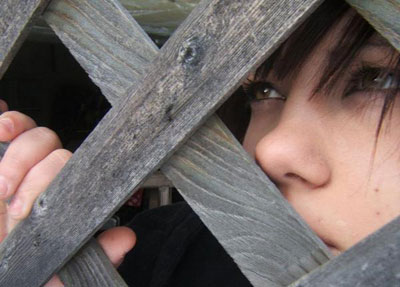 © Krystal B., Bloomingdale, IL