If i Die Young
November 26, 2010
A young woman stood in front of a light gray casket, tears brimming her eyes as she touched the hand of her now deceased son. His gray skin was cool against hers, and a stream of tears fell from her eyes to his hand. His once bright eyes were closed, his delicate features forever frozen in time. His straight blond hair framed his face perfectly.

Sleeping. He's sleeping, Allie. she repeated to herself the lie that had been keeping her going for the days that had past. Carefully, as if one false move could wake him, she traced his jaw line, tears flowing from her eyes.

Moments later, a cool hand caressed hers, causing her to look back. Her husband, a pale man with the same features as the boy who lay in the casket took her hand, his eyes dull and tired from crying. He offered her a soft smile, and pulled her close eying his son, attired in a clean white suit.

Behind them their children stood, staring at their brother. A small boy of four or five walked up to the women with a bright smile on his face.

"Grandma, daddies okay now. He'll get to be an angel!" He exclaimed, his innocent giggle at the thought of his father being his angel making her smile sadly. Her husband let go of his wife's hand and picked up his grandson, letting him kiss his father on the cheek on last time.

A few minutes later, the lid was closed and six of his eldest brothers were carrying his body out to the hearse. A sob escaped from his mothers' lips as she buried herself in her husbands chest, her makeup running down her face, three of her daughters at her side.

I love you mom. Her son said from behind her, his body transparent. He sighed heavily, his breath shaking as a tear fell from his eyes as he watched his mother breaking from the inside out.

The woman quickly looked behind her husband, tears falling faster as she realized the voice she had just heard must have been in her head. Her sons that had carefully placed their brother in the hearse followed one another back inside, their faces expressionless.

Her eldest, a young man of twenty five neared her. He bent down and gently kissed his mother on the forehead before pulling her in for a hug. She held on to him tightly, the tears stopping for just a moment as she thought of the strong person she needed to be for her other children.

"It's okay, momma." Her son whispered as he pulled away to join the rest of his siblings filing out of the funeral home to get into their cars and drive to the cemetery.

"He'll come back. He has too." The woman said to her husband, her voice hoarse from crying. Her husband sighed as he opened the door for and helped her into the car.

"I sure as h*** hope so, love." He replied in his thick French accent. The couple drove slowly behind the car that held their sons body. The woman breathing deeply as she tried to b race herself for what was to come.

"Death leaves a heartache no one can heal, love leaves a memory no one can steal." Her husband whispered to her as they neared the grave site. The woman smiled as she thought of her son running around as a small child, growing into a young man and becoming a father.

"If you say so, love" The woman said as she slowly opened her car door and stepped out. The cool November air wrapped around her naked legs, and a soft smile became apparent on her lips as she walked along the dirt path to her sons burial plot.

"I love you, baby boy." She said as she bent down, kissed her fingers and laid them on the chilled lid of the casket.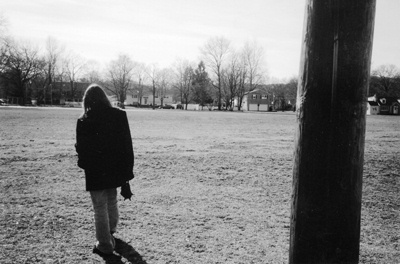 © Rosalie P., Pompton Plains, NJ