The Piano
November 15, 2010
Azalea had always wanted to play the piano. It seemed as though she played every other instrument, but for some reason, her mother refused to let her learn how to play since she was five. That was about a year after her father died.

She asked her mother, day after day, "Mom, can I please learn how to play the piano?"

"No, Azalea," she would reply her constant reply.

"Why not?"

Then her mother would change the subject with some sort of business she had to do.

She came home one day to, once again, beg her mother to have piano lessons.

Azalea took a deep breath as she walked in the door to ask the age old question, but instead saw something tremendous.

Her mother was at home, but there was something different. Instead of her usual crossword puzzle on the couch, she was playing an instrument that was set in the living room. Not just any instrument; a piano!

Azalea dropped her things where she stood and bolted to the piano.

"Mom!" she said, enthusiastic. "You got a piano!"

The woman stopped playing and turned toward her daughter. "Yes, honey, I did. And I got it just for you."

Azalea ran her hand over the sleek piano, being careful not to touch it entirely too much. "Why? You never let me even take lessons!"

"It's time I told you. Before your father died, his favorite instrument was the piano. He would always sit with you on his lap and play, and play, and play; you loved it. I guessed that was why you always wanted to play the piano. You just remind me of him so much, I was afraid I'd break down and cry if I even heard you play."

Azalea sat next to her mother.

"But I guess we'll have to let that go now," the woman continued, "because I'm getting you piano lessons."

Azalea gasped and jumped up. "Oh, Mom, thank you, thank you, thank you!"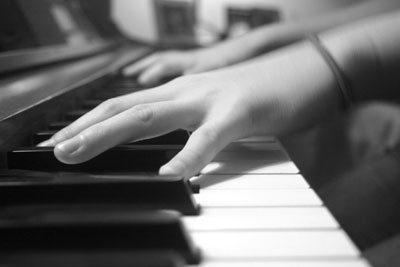 © Elizabeth S., Newton, MA