Guard Dog
October 28, 2010
The Alpha Dog left the house, jumped into the monster and drove away. She was always my master, ever since she took me from the cage with all of my littermates. She was the biggest and the one who gave me food. She always said she'd be back, but I always remembered those days I was alone from the time the sun rose to after the sun set, and always worried. I was born a pack animal, the awesome Beagle, and being alone was not my thing.

I lay sprawled on the top of the couch, gazing out the window to guard my home from terrible creatures, like that crafty cat. He was always entering my territory and testing my patience with that smug look of his. But, I rarely napped on the top of the couch. Usually the hardwood floor was better for that. But it was monotonous to stare at a blank wall, so I spent most of my day staring out the huge window. The outdoors was so much more interesting.

I kept an eye, ear, and nose out for bunnies… whenever I saw one gnawing on the clovers within the barrier around my territory, adrenaline jolted through to the tip of my tail and sent me into a flurry of hectic howling. Inside, I knew barking was bad, but once I'm let out, I'm on its tail and the Alpha Dog and my human littermates scowl and scream for me to stop. We were bred to hunt bunnies… but not to catch them. My job is to bark loudly, nearly hit my nose on the fence, and hope the Alpha Dog gets it. She never goes after them, which annoys me. What's my purpose, then? I was extremely close to catching one, though. If I wasn't on a leash, I would have had bunny for dinner instead of dog food!

The thought of food brought me to jump from the top of the couch and onto the slippery floor towards my bowl. I checked the food bowl. Nothing. Only those hard, bland pellets. The Alpha Dog never understands… I want the cheese. I know that word. How can humans eat stuff that emanates such wonderful scents and make me eat this?

I spotted a sunny spot, plopped down on top of it on the hardwood floor, and sighed dramatically. No one heard me, of course. That enthralling adventure of ten steps across the house made me tired, so after several attempts at ignoring my stuffy-nose snoring, I dozed off.

After an eternity of sleep, I perked up my ears at the sound of a familiar slam. I nearly tore a leg muscle leaping up to greet the Alpha Dog and my littermates. I jumped all over, ecstatic that my herd was reunited!
My glee was fleeting. After the littermates stopped petting me to do whatever, I got bored and returned to sleeping. I jumped onto the couch again, nudged a pillow to the correct spot, circled around, and fell down, my large snout sitting comfortably against the pillow. The Alpha Dog glanced over from that weird device she was using from the other room at me.

I stared back. I hope she wasn't asking me to move.

I waited for more gibberish, but it didn't arrive. So, I adjusted myself to make myself comfy again and quickly fell asleep. Moments later, I snorted myself awake and found myself on my back. My extra fat protruded from my belly, my paws were up in the air, and my ears were upside down and back. I slowly noticed the Alpha Dog and my littermates were amused.

I just groaned and flipped over; being upside down only upset my allergy-prone nose. Ignore the silly old dog, I thought with a yawn.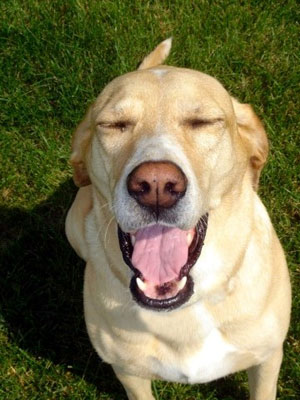 © Ashley E., Downers Grove, IL