The Soldier
October 28, 2010
I pulled my gun, but it was too late. The hostage had already been shot. The Taliban soldier darted away, running for cover. I kept my gun pointed in his direction as I ran towards the hostage, who was laying in a pool of blood. I heard the loud blasts of gunshots as I pressed two fingers against the hostage's neck. Dead. I cursed in my head as I jumped to my feet.

I tightened my hold on the trigger as I began to dash towards my team. Dirt flew up next to me, as bullets penetrated the desert floor. I slid behind a rocky wall, just as a grenade exploded, firing shrapnel in every direction. I took deep breaths for a moment, planning out my next move. I glanced over at Jack, who was wide eyed and very scared.

"Jack!" I whispered sharply. Though, the sound of gunshots drowned out my voice. "JACK!" I yelled loudly.

He looked my way with a very frustrated look. "What?!"

"Cover me!" I yelled.

Jack peeked over the wall. Just then a bullet skinned the top of the wall, blowing off a huge chunk. Jack dropped quickly, his breathing becoming more and more fitful.

"Jack! Cover me!" I repeated angrily.

"NO! Cover me!" he yelled as he scrambled to his feet. He vaulted over the wall and began to open fire upon the enemy. So much dust filled the air that he became invisible. I lifted my gun up and began to fire at a man standing on a roof nearby, who revealed himself when Jack ran out into the open.

Suddenly, I heard a pounding noise. I recognized it. It was the sound of a bullet making contact with a soldier. You never forget it once you hear it. I desperately looked around, hoping that it wasn't one of us.

The dust cleared, and I saw Jack. He was lying on the ground, one of his legs almost completely blown off. The bone was visible, and he was clenching his teeth. I took a deep breath and held it. I knew that was going to be the end of Jack, but I didn't want to see it. I shielded my eyes for a moment.

The pounding noise that followed was deafening. Tears suddenly shot through my eyes, and anger swelled up inside of me. I looked eagerly for a teammate of mine, but they all were either out of sight, or too far away to hear me.

So I did something crazy...

I pushed myself to my feet and began running towards the closest teammate, which happened to be Charlie. Charlie looked my way for a moment, but then returned to being concentrated at the battle at hand. I could feel the adrenaline pumping through me as I neared him. All of a sudden, a powerful force knocked me off balance. Pain and blood were present. I sprawled onto the ground and grabbed onto my neck which was squirting blood onto the ground.

I had been shot.

I laid there, grasping my neck tightly. I could feel myself getting weaker, and the world was getting darker.

You know how people say your life flashes before your eyes before you die? Its true. I saw everything, my birth, my teenaged years, and it seemed as though I watched them for thirty six years.

The last image I saw was my wife, kissing me on the cheek before I left. The last sound I heard was my voice. My voice saying, "I'll be back, I promise."

Then I was gone.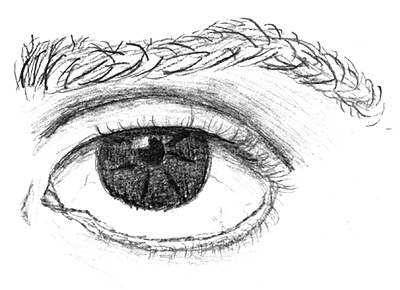 © Anthony R.,Wilmington, MA